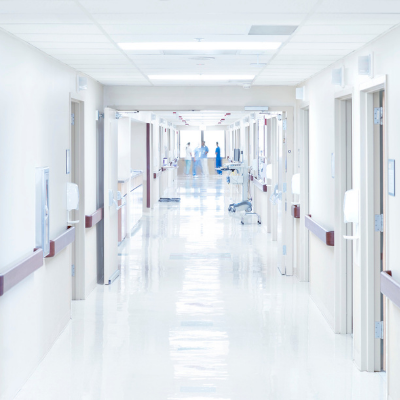 Towards Being A Good Hospitalist
---
Authors: Zana Hekmat, Analyst &
Viktor LaPorte, MBA, Consultant
---
Introduction
What makes a good hospitalist? How does one even begin to characterize one? Dr. Jesse Burk-Rafel, a hospitalist at NYU Grossman School of Medicine, addressed this topic recently in a
series of tweets
, all 180-characters or less. Ultimately, one thing can be deduced from his thoughts and supporting evidence - a good hospitalist is not easily defined. Nonetheless, some defining characters come up frequently in his research. Being a good teacher, a strong patient advocate, and demonstrating a large fund of knowledge about their field are qualities of a good hospitalist.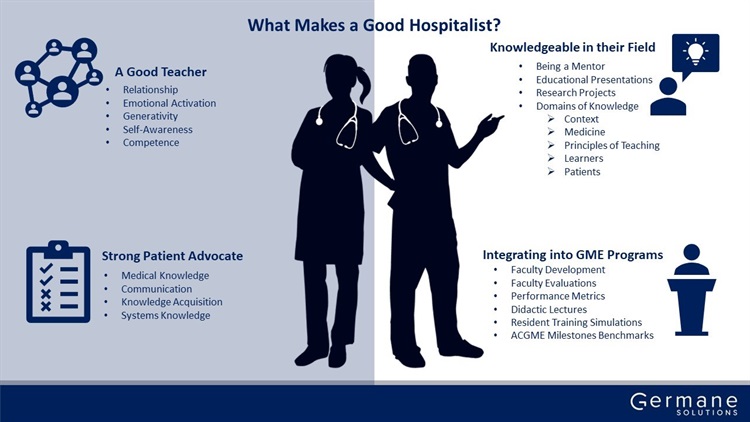 A Good Teacher
One of the defining characteristics of a good hospitalist is that they are good teachers who are willing to help whenever possible. This reality exists within Graduate Medical Education (GME) programs that aspire to have hospitalists who love their jobs and ignite a passion in their residents and fellows. Listed below are the
five
skills as identified by Dr. Sutkin that a good teacher should possess:
Relationships – A good teacher recognizes that a student-teacher relationship is an educational tool. Teaching becomes a bidirectional exchange. Students appreciate individual attention and teachers have a role similar to that of a parent. Trust and individual consideration are paramount. For physicians to be successful, they need to have a great relationship with their patients.
Emotional Activation – A good teacher can excite, arouse, and activate his or her students. Although we all have experienced this enthusiasm and response to it, we do not currently understand how it is done.
Generativity – A good teacher understands that teaching is a giving process that changes as the student grows. The student is allowed a stepwise assumption of responsibility and is permitted to make an independent decision or to perform technical steps of a procedure only when he or she is ready. The teacher may be challenging. Expectations might be high.
Self-awareness – A good teacher reflects on his or her teaching and is sensitive to feedback. This quality may allow good teachers to adjust quickly to the characteristics of individual students and student groups.
Competence – A good teacher is a master of what he or she is trying to teach, and the student identifies selectively with ways in which the teacher models the doctor-patient relationship.
Although more qualities make a good teacher, the ones above are just some of the top qualities based on research identified by Dr. Sutkin. The goal is to get the learners engaged and excited about their chosen profession.
Strong Patient Advocate
The patient is the primary focus of hospitals. Patients need to have doctors who are knowledgeable in their profession and provide them the best care. They also desire doctors who can appropriately communicate and explain what they are doing. Therefore, a hospitalist must fully understand the patient's needs to be a good hospitalist. With this in mind, a new patient care skill has emerged from
research by Dr. Fromme
, showing that patients are looking for doctors with knowledge acquisition that can keep up to date with current evidence and literature. Dr. Fromme expands on this point by indicating that physicians should be knowledgeable in medicine, but at the same time, knowledgeable about the system they work for, and what services are offered, etc. This is because knowing the health system creates a well-rounded physician and patient advocate. Lastly, the hospitalist should take part in research projects and anything that will better their knowledge of the field.
Knowledgeable Hospitalist
Being considered "
knowledgeable
" is one of the most underrated skills a person can have when working in their profession. We know that we gain knowledge with on-the-job training. However, when it comes to medicine, on-the-job training is only part of the skill set that a hospitalist needs. Hospitalists also need to continue learning about their medical field through ongoing research, lifelong learning, and evidence-based practices. The hospitalist should have knowledge of the subject matter, learners, content-specific instruction, and general principles of teaching and learning. A hospitalist who goes the "extra mile" and takes part in a research project or scholarly activity expands their knowledge base and adds value to the healthcare system. When doctors present their research and findings, it expands the knowledge of other healthcare professionals, translating into overall patient care improvement. With a wide knowledge base and drive for scholarly activity initiatives, hospitalists can possess an upper hand in treating patients and educating other learners.
GME Program Integration
By utilizing the characteristics mentioned above, hospitalists can incorporate these skills into their respective GME programs through faculty development sessions. These faculty development sessions could be held quarterly and would be available for all faculty members and residents. One way to ensure that residents are progressing properly would be to measuring these metrics (teaching abilities, patient advocacy, and knowledge base) through quarterly and/or rotational evaluations. These evaluations can be made easily and placed into the residency management system for distribution to the residents and faculty members as deemed appropriate by program leadership. Residents and faculty can also participate in simulated patient encounters and observe bedside procedures through proper role-modeling, so communication between doctor and patient is maintained. Didactic lectures about professionalism could also be given. These skills could fit nicely into the professionalism core competency as defined by the ACGME and GME program and utilize the specialty-specific Milestone benchmarks to gauge the resident's progress within the program.
Conclusion
Many qualities make up a good hospitalist, including but not limited to being a good teacher, a strong patient advocate, and demonstrating a large fund of knowledge about their field of medicine. These skills are paramount to being successful in today's clinical environment. Without sufficient training, knowledge, and experience, many teaching clinicians face challenging and multifaceted responsibilities they are not prepared for. Equipped with the necessary and proper personal and professional attributes, a good hospitalist can be developed.