Training Physicians in Population Health Management
---

Author: Treven Cade, Analyst
---
Population Health has been discussed previously and is a term, currently, open for discussion, as most hospitals and institutions put forth their own similar, but different, conceptions. The term has nonetheless persisted due to its beneficial impact on these institutions: many of which incorporate Population Health Management (PHM) into their resident's training and/or their overall operations. Similar to different hospitals having different conceptions of population health, many have different capacities and methodologies to train their workforce for population health. Multiple situations—an aging physician workforce, vulnerable populations, and densely populated areas, etc.—have caused institutions to focus on PHM because of its benefits, such as the efficiency of using local programs to benefit the community.
Many hospitals and Medical Graduate institutions are implementing courses that improve PHM education for students and future residents on PHM. Training these individuals has become a priority because these practices lower health risks at a low cost. Philips Healthcare authored a report that provides nine criteria to address and implement. These criteria were crafted for the purpose of, "identify areas requiring improvement, as well as areas of strength." Therefore, as previously mentioned, methodologies to improve PHM education are becoming more common because imperfections, or situations, are becoming an increasing area of concern. Philips Healthcare is not the only organization to release frameworks for PHM, such as AAMC.
In accordance with innovating population health management, Philips Healthcare created a "framework" to create PHM programs in hospitals and institutions.
Philips identifies nine criteria that address PHM:
Phillips Healthcare's Nine Criteria for Addressing PHM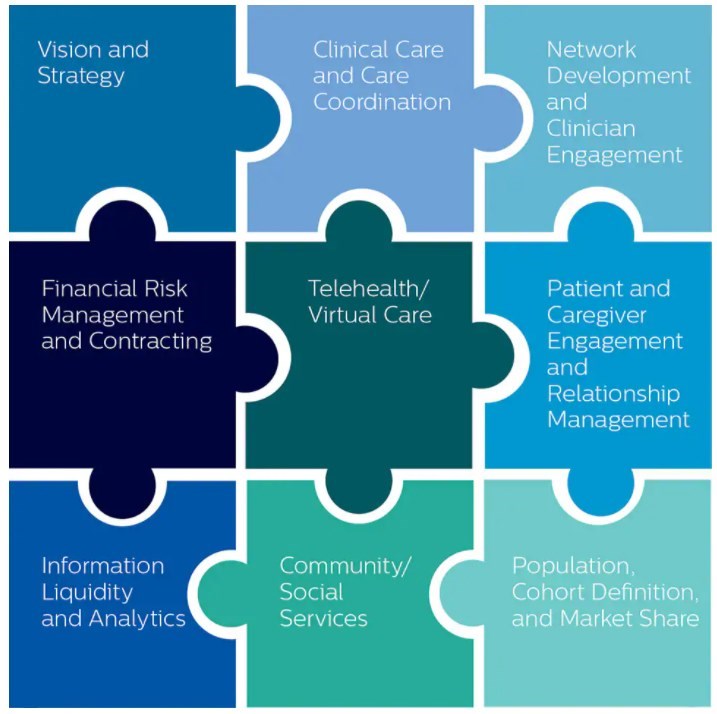 These are metrics that a hospital or institution can measure and use to identify areas of improvement and current strength. Before and after this publication in 2016, universities and healthcare institutions have begun to incorporate PHM in their curriculums, including Duke University, Harvard Medical School, the University of Mississippi, and the Missouri State Medical Association to name a few. These programs range from first-year graduate courses to reorganizing hospital systems.
Duke University, for example, encapsulates population health within its mission statement and has constructed departments specifically focused on improving local health populations. The Harvard Medical School has also begun contemplating population health as a "basic science" to better educate students on the topic. The University of Mississippi, due to the major financial pressures of healthcare reform, has created an Executive Master's Program in PHM for medical graduates. Lastly, The Missouri State Medical Association gathered the expertise from a plethora of doctors to improve a hospital system's community-based care programs. These programs will be described in the final segments of this essay. It will be argued that increased attention to population health has caused situations that institutions must respond to. These situations are prominent across the country, or recurring; however, institutions all address the problem differently. Thus, from the previous premises, it will be easily understood that PHM is a genre of medical practice.
To begin, Duke University's mission statement includes aspects quite similar to population health: "to help those who suffer, cure disease, and promote health," and "to contribute in diverse ways to the local community." Likewise, "population health (i.e., the health of populations) is the ultimate goal [for Duke]; [they] must employ public health methods and approaches to achieve it." Duke has a Department of Community and Family Medicine (CFM) that works with other institutions to improve population health. Duke is also always working toward sponsoring local health programs that would ordinarily be extended past their reach. Duke has increased attention to population health, "seven Durham neighborhoods have increased their coordination around disease prevention and health promotion," in the last three years. To further expand their population health programs, Duke worked to create a competency map to legitimize their conceptions of population health across their institution. Duke began these programs two decades ago and faced many problems regarding what needed to be learned; however, their perseverance led them to improve local health.
Second, Harvard Medical School has similarly implemented specific required courses for first-year Medical Graduates that focus on PHM. Unlike other programs, this is fairly early along the medical graduate timeline; however, "[Harvard] believed that a population health framework should be introduced early in the curriculum as a foundational element, akin to basic biomedical material." Regarding the situations that required this program's existence, Harvard states they are intended to help students use PHM at local, state, and national levels and are, "aimed [at designing] an educational program that would help students view the clinical care of individuals and population-based prevention, screening, and intervention as a single continuum of interlocking approaches." The fact that these programs are becoming instituted within the first year of medical education easily stresses the importance of population health.
Third, and broader than a first-year course, one can receive an Executive Master's Degree at the University of Mississippi. An education under this program would provide sufficient knowledge to, "practice redesign, new incentive payment models, team-based models of care, electronic medical records (EMRs), quality improvement, identifying patient groups, service bundling, working with accountable care organizations, implementing health management approaches, and maximizing community assets." These 700 PHS courses at the University of Mississippi are both numerous and comprehensive.
Fourth, and outside of the medical graduate experience, the Missouri State Medical Association published a study in Greene County, Missouri to improve the community-oriented practices of a hospital system. Once again addressing the situations that begot this study, it is stated that "[h]ealthcare organizations are being propelled into the era of population health management by changing reimbursement models that reward value rather than volume." As the climate of healthcare is in need of consideration and reform, efforts such as these will be seen at the forefront of its application. The results of this study showed that the four areas of primary concern to address PHM effectively are integration, education, coordination, and easy transitions from program to program, and sharing of information.
From frameworks to applicable programs in medical school and hospital systems, PHM is being addressed throughout healthcare. Simply put, PHM is a constantly shifting genre of medical practice. To elaborate, one should not think this to mean a form of literary classification, rather, as a set of similar programs, across multiple institutions, that are addressed to similar recurring situations. From this understanding, a genre is brought about by an imperfection, or a situation, that incurs a wide variety of similar responses. Another example of the genre in medical practice could be various AAMC Reports, which are brought about by prominent healthcare issues that are in dire need of a framework, such as a physician shortage.
Why does it matter to consider PHM a genre of medical practice and what are the benefits? First, it is important to know that most organizations have a seminally different conception of population health and its management. The conception of genre allows for these differences, as hospitals and institutions can configure their practices relative to the situations they face. Second, when hospitals realize they want to utilize population health, they could question which practices are best to implement. The answer is not so simple, however, as it begins by analyzing the situation at the individual hospital. Once the areas of improvement and strengths are realized (whether it be dilemmas with a physician shortage, primary local care, financial hazards, etc.) an appropriate response can be conducted. PHM is not being implemented universally in the same way, and the definition is not concrete; however, hospitals are facing various dilemmas that are being solved by actions that can be grouped in similar categories.
Sources:
https://scholars.houstonmethodist.org/en/publications/population-health-management-the- lynchpin-of-emerging-healthcare-
https://www.usa.philips.com/c-dam/b2bhc/us/Specialties/community-hospitals/Population- Health-White-Paper-Philips-Format.pdf
https://www.ncbi.nlm.nih.gov/pmc/articles/PMC3636155/
https://journals.lww.com/academicmedicine/Fulltext/2008/04000/ An_Initial_Experience_with__Team_Learning__in.5.aspx
https://www.umc.edu/SoPH/Departments-and-Faculty/Population-Health-Science/ Education/Executive-MS-Population-Health-Management/Executive-Masters-in-Population- Health.html
https://www.ncbi.nlm.nih.gov/pmc/articles/PMC6312173/