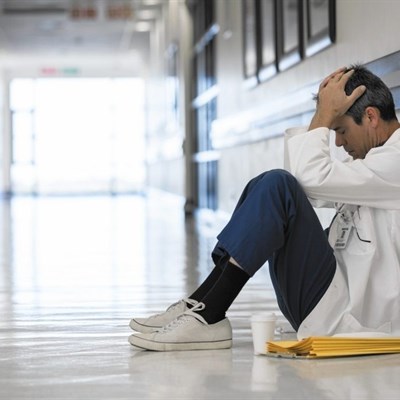 Physician Burnout: A Systematic Issue Requiring System-Level Response
Being a physician has always been a challenging profession, but the satisfaction and joy found in patient care interactions formerly balanced the challenges. In the last 20-years, however, something has changed. Physicians have seen increases in demands for their time, resources, and energy to an overwhelming degree. In addition to poorly designed daily work systems, the failure of EMRs to support physicians, increasing regulations, loss of control of their work-life balance and weekly schedules, an aging patient population with complex and chronic conditions, and now a pandemic were the ingredients to a perfect storm; one brewing over the last 20-years to negatively affect the health, wellness, and happiness of physicians across the United States. Each of these root causes is systemic-- and you know what that means: systemic solutions.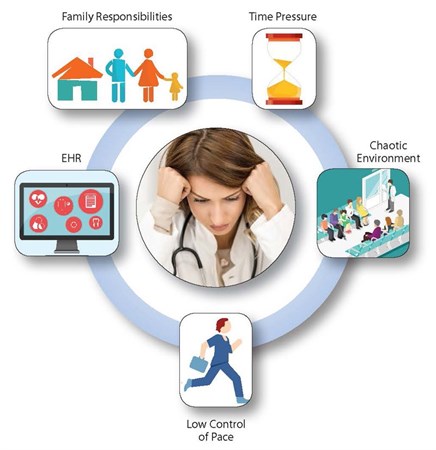 The medical community took the first step towards systemic solutions as early as 2011 by recognizing a problem was occurring and issuing grants to study the issue and media campaigns to bring awareness. According to the Agency for Healthcare Research and Quality, the change in the working environment has led to a "rising prevalence of burnout among clinicians (over 50% in some studies)". Multiple organizations have partnered to address these issues through different initiatives labeled 'physician wellness', 'physician engagement', and 'bringing joy back to medicine'. The Accreditation Council for Graduate Medical Education (ACGME) is one of the most prominent advocates for reducing physician burnout. In the past five years, they implemented additional requirements for Graduate Medical Education (GME) programs and placed significant attention and focus on physician well-being and safety.
The ACGME also serves as an example of how large regulatory organizations can work together to create systemic changes in the medical community. In 2016, they partnered with the American Association of Medical Colleges (AAMC) and NAM (National Academy of Medicine) to co-chair the Action Collaborative on Clinician Well-Being and Resilience. This collaborative includes 150 other organizations that promote physician well-being and resilience and leverages its members' influence to create a healthier, safer medical community. Physician wellness and burnout are being monitored at a hospital and health system level like never before, which pressures Healthcare System and Hospital leadership teams to address it as well.
The prime example of a successful initiative is at Johns Hopkins Medicine, where the Dean of the Medical Faculty and CEO, Paul Rothman, created the "Joy in Medicine Task Force." Task force Co-Chair, Dr. Janice Clements, said, "the task force's overriding goal was to help people find time in their day to do the work that brings them joy." Johns Hopkins Medicine recognized the problem and dedicated funding, personnel, time, and attention to address it. The task force explored specific areas that it believed could include barriers to joy and created podcasts, articles, videos, and more to promote joy. They even recommended that Johns Hopkins Medicine developed an "Office of Well-Being." In November of 2019, Johns Hopkins Medicine established the Office of Well-Being and appointed its first Chief Wellness Officer. The Office of Well-Being "adopt[ed] a systemic approach to well-being, developing both institutional and individual approaches to improving job satisfaction" through incremental change.
While Johns Hopkins Medicine provides a quick study of successfully changing a system to reduce physician burnout, it isn't the only one. In fact, there are so many interesting studies, change plans, success, and failure stories on this topic we are pleased to announce our
first year-long series starting January 2021
. We hope you will subscribe to our news alert and join us in the series.
References:
Agency for Healthcare, Research, and Quality (2020)
https://www.ahrq.gov/prevention/ clinician/ahrq-works/burnout/index.html
Paul Rothman (2017) "Keeping the Joy in Medicine"
https://www.hopkinsmedicine.org/ news/publications/hopkins_medicine_magazine/forum/winter-2017/keeping-the-joy-in- medicine
Patricia Salber (2018) "Can Professionalism Bring Joy Back to Medicine"
https:// thedoctorweighsin.com/can-professionalism-bring-joy-back-to-medicine/
Perlo J, Balik B, Swensen S, Kabcenell A, Landsman J, Feeley D. (2017) IHI Framework for Improving Joy in Work. IHI White Paper. Cambridge, Massachusetts: Institute for Healthcare Improvement
http://www.ihi.org/resources/Pages/IHIWhitePapers/Framework-Improving- Joy-in-Work.aspx
"Improving Physician Well-Being, Restoring Meaning in Medicine"
https://www.acgme.org/What-We-Do/Initiatives/Physician-Well-Being
Network Organizations of the Action Collaborative on Clinician Well-Being and Resilience
https://nam.edu/action-collaborative-on-clinician-well-being-and-resilience-network- organizations/