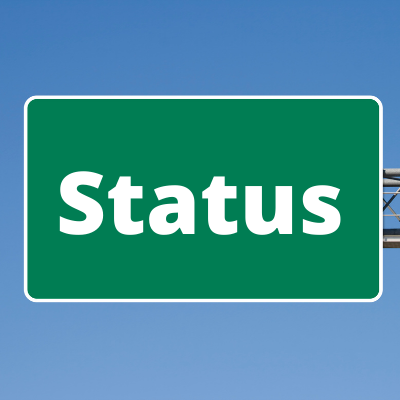 How Often Must Physicians Recertify?
---

Author: Treven Cade, Intern, Univ. Dayton
---
The American Board of Medical Specialties (ABMS) has 24 boards that cover a plethora of medical specialties. Upon being initially certified, all physicians must be continually recertified which, "is the process whereby the Board identifies for the public those Diplomates who have met the Board's criteria for basic continuing education and have demonstrated a fund of knowledge and expertise in the care of patients whose cases were reviewed by the Board at the time of the exam." Physicians can also become certified through Maintenance of Certification (MOC) which is an analysis of six competencies: Practice-based Learning and Improvement, Patient Care and Procedural Skills, Systems-based Practice, Medical Knowledge, Interpersonal and Communication Skills, and Professionalism. These recertifications are, of course, done by the respective board that covers their medical specialty. Dependent on each individual board, one needs to recertify between a period of six to ten years.
As stated previously, the ABMS recertifies physicians dependent on their respective board. Out of the 24 boards associated with the ABMS, 17 allow the maximum time for recertification at ten years while the remaining require recertification at the seventh and eighth years.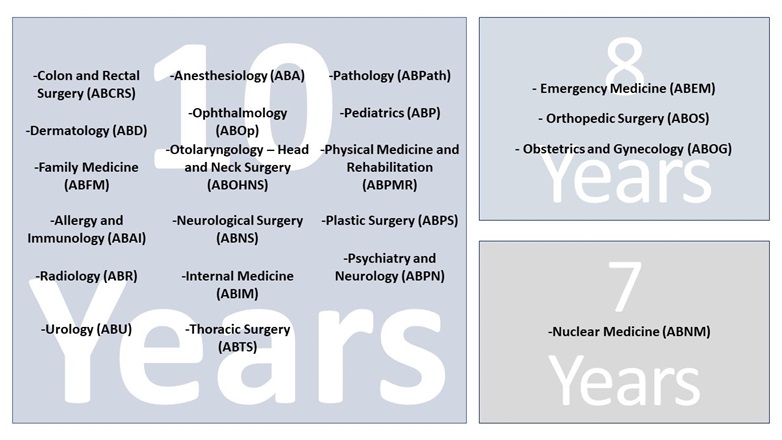 Some boards rely on more unique ways of certification. For example, Preventive Medicine (ABPM) has recently undergone changes to their recertification process: "[d]iplomates certified by the American Board of Preventive Medicine (ABPM) in Clinical Informatics and Addiction Medicine will no longer be required to maintain primary certifications in order to recertify in these subspecialty areas." This was done to improve the board's MOC program. The Medical Genetics and Genomics (ABMGG) and Surgery (ABS) boards are both moving towards Continuous Certification. Surgery (ABS), specifically, is moving away from a ten-year recertification with a "new program [that is] designed to be more convenient, flexible, and practice-related, to better reflect how diplomates practice today." While the majority of specialties within the ABMS have a recertification process between six or ten years, a few boards are moving away from that tradition.
Sources:
https://www.absurgery.org/default.jsp?cc_faqs
https://www.theabpm.org/2018/08/16/american-board-of-preventive-medicine-is-reducing- the-burden-for-diplomates-recertifying-in-clinical-informatics-and-addiction-medicine/
https://www.abpsus.org/recertification-details
https://www.abpsus.org/obstetrics-gynecology-recertification)
https://www.nmtcb.org/faqs