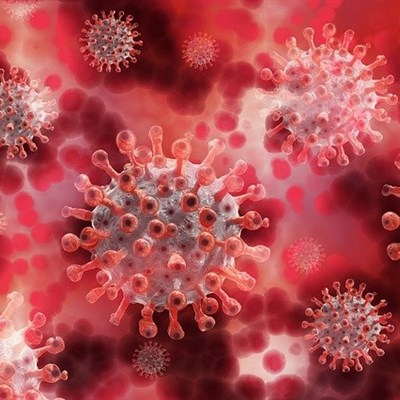 Preparing for a Fall COVID-19 Surge
---

Authored by: Viktor LaPorte, MBA, Consultant
---
In some areas of the United States, a slow decline in COVID-19 cases is occurring as the
summer rolls in and hospitals begin their orientation for incoming Residents and Fellows.
With the heavy lift of unprecedented times, onboarding, and orientation nearing completion
and with the outcome-- pandemic-related policies and processes--in place, it is time to be
proactive and acknowledge the coming of a second wave of COVID-19 to potentially crest
in early Fall.
Reviewing 'lessons learned' and adjusting procedures and supplies now will help prepare
both incoming Residents, Fellows, and existing Trainees in the system to adjust to the new
normal.
As previously discussed in our News Alert
, the Accreditation Council for Graduate
Medical Education (ACGME) defined three stages for a pandemic:
Stage One – Business as
Usual, Stage Two – Increased Clinical Demands and Stage Three: Pandemic Emergency
Status
. Today, let's go a little bit further in-depth with the defining characteristics and
lessons learned for meeting the needs of Residents, Fellows, Faculty, Staff, and the patients
they serve.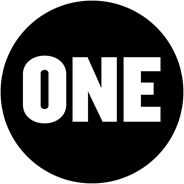 Stage One – Business as Usual
Defining Characteristics:
GME office, DIO, and Program Directors are in talks about
planning for increased clinical demands. Programs are still capable of abiding by all
Common and specialty-specific program requirements. The ACGME suspends site and
self-study visits, as well as ACGME surveys, and shifts focus to national leadership and the
frequent release of guidance statements via e-mail and website.
Recommendations:
Education is not slowing in stage one, rather a different approach is
taken. Early staging and planning for a pandemic will help combat the need for emergency
tactics and making a "drop everything" emergency shift all at once. Clinical services will
slowly start changing, focusing on expanded coverage plans and emergency roles suitable
for different groups of trainees.
As shown in the ACGME checklist, increase your Resident and patient safety measures,
oversee the completion of PPE supply procurement, thorough workspace sanitation, and
mandatory PPE training for new Residents, Fellows, and Faculty.
Offer 'refresher' courses for existing Trainees transitioning from telemedicine to inpatient
rotations.
Provide telemedicine supervision training for Faculty and Residents/Fellows and build
telemedicine visits into ambulatory rotation workflows.
Have a virtual didactic plan with instructions for connectivity on-hand for transitioning, if
needed.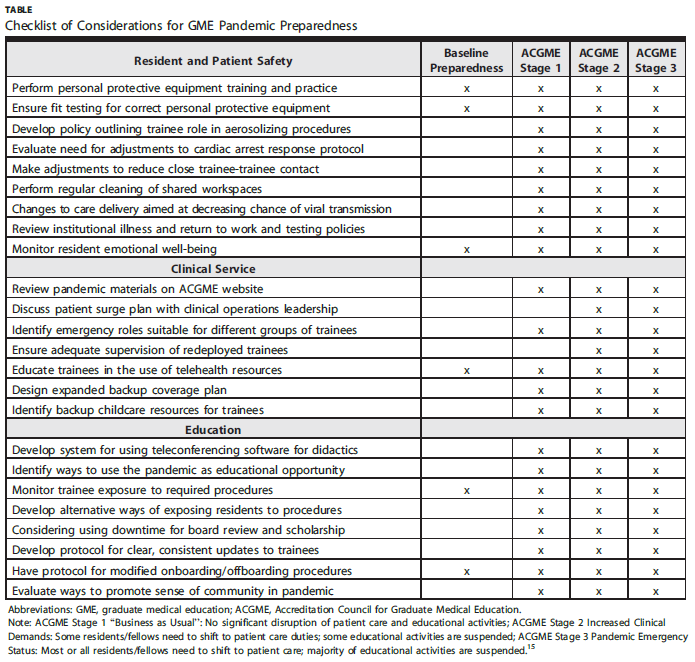 Stage Two – Increased Clinical Demands
Defining Characteristics:
You will see a shift in Residents, Fellows, and Faculty from being
able to attend didactics, pre-round, etc. to struggling to meet clinical demands. Clinical and
Educational Work Hour reports may show increased rates of delinquencies and higher
volumes of hours worked than average. Evaluations are not completed as quickly as usual
and the Program Coordinator is seeing more delinquencies—even from those who are
rarely, if ever, delinquent.
Recommendations:
Review key patient care and quality metrics like average length of stay, ICU occupancy,
and EM admissions, discharges, and readmission rates for all Provider-based training
locations. Determine if there is a strong uptick or increased volumes are short-term.
Hold a Program Director & Coordinator Conference call, sharing clinical volume
information and requesting perspective of Resident, Fellow, and Faculty well-being,
workload, and clinical and educational work hour capacity. Devise as a group the 'tipping
point' for entering Stage 3, communication protocols, and an action plan for the next 60-
days.
Review, update, and/or create documents outlining protocols and resources for adequate
supervision, maintenance of clinical and educational work hours, and rotation schedule
changes required to ensure the safety of Trainees, Faculty, and patients.
Determine if there are any off-cycle residents or fellows close to their graduation date. Note
interest in early graduation and appointment to the medical staff at your institution. Fasttrack
the process as needed.
Review PPE Training attendance records, schedule, and monitor compliance for anyone
missing training.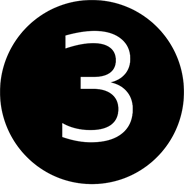 Stage Three – Pandemic Emergency Status
Defining Characteristics:
Patient care needs ultimately trump educational and clinical
training needs. All residents are shifted to patient care and the majority of educational activities are
suspended for the time being.
Recommendations:
Be sure to attend the Thursday, June 18th ACGME DIO/IRC Zoom Call
Notify the ACGME by completing the Pandemic Emergency Status Form
Notify Program Directors and Coordinators of Stage III declaration and list administration
operations suspended and remaining in effect
Open a confidential feedback system or line specifically dedicated to the reporting of
ACGME violations related to COVID-19 response
Post this notification and information within the residency management system, in the
resident lounges, by mail centers, and around commonly gathered areas such as cafes
and cafeterias.
Host weekly ZOOM sessions with Program Directors and Coordinators to guide and
support as needed with additional resources, insights, and direction.