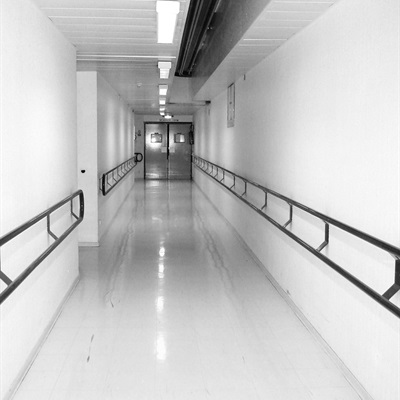 The AAMC Report Confirms Growing U.S. Physician Shortage: What's Being Done
Stakeholder Perspective 1: The Physician
---

Author: Ian Sullivan, Consultant
---
"We continue to project physician demand will grow faster than supply, leading to a
projected total physician shortage of between 54,100 and 139,000 physicians by 2033,
including a Primary Care physician shortage of between 21,400 and 55,200 physicians."
This is an almost unbelievable statement from the AMA's "The Complexities of Physician
Supply and Demand: Projections From 2018 to 2033" report. The Physician shortage is
growing at an alarming rate, so let's dig into specific factors contributing to this problem.
The first factor is the trend towards early retirement. The AAMC conducted the 2019
National Sample Survey of Physicians (NSSP) and their findings suggest physicians intend
to retire earlier than was assumed in previous supply projections. Examining the shifting
perspective physicians have for their career arc can help us discover ways to keep
physicians in the profession longer and attract more physicians to the profession over time.
It is likely no surprise physician burnout is a second factor playing a large part in both the
early retirement of physicians and contributing to the overall physician shortage. In today's
society, people are always "on". When away from the office, we receive emails and notifications
directly to our phones. The medical field is not immune to this—in fact, they have double
the issue with the administrative inbox as well as a clinical inbox within the EMR that never
ceases to be full. Physicians then, in addition to worrying about patient and population
health outcomes, worry about falling behind in administrative duties as well. With
competitiveness engrained in physicians throughout their training, the drive to perform is
sustainable for only so long. Even before medical school, physicians were competing to get
into a medical school. The extreme study habits in college and especially for the MCAT
start and normalize the cycle of extreme competitiveness to the point of risking well-being.
The cycle continues through medical school with students competing for class rank and
more extreme study habits for SHELF, USMLE, and COMLEX exams. Physicians then have
to endure a MATCH process that sums up the competitive nature of Medical School
perfectly. The strong students get matched and the weak and unworthy students are left
with no residency program, no career path, and $250,000 in debt. Lastly, the Graduate
Medical Education (GME) Experience has historically been home to ruthless
competitiveness and extreme overwork of trainees. In effect, the third underlying factor for
a physician shortage is the physician pipeline itself causing moral injury to its learners each
step of the way.
What is being done to alleviate these three factors associated with the physician shortage?
In the last ten years, the AAMC and ACGME have separately and collectively attempted to
combat physician mistreatment. Starting in medical schools, the curricular trend shifted
from competitive to collaborative with most schools shifting from traditional grading scales
to pass/fail courses. The hypothesis is if the focus were placed on learning, students would
work together rather than compete with one another, to learn the material. During the 2017–
2018 academic year, 108 schools used pass-fail grading in pre-clerkship courses,
according to the Association of American Medical Colleges (AAMC). That number is up
from 87 in 2013–2014. Pass-fail was far and away the most common grading system used
in 2017–18, the last year data was available. While helpful, the competitive energy shifted
from class scores to USMLE/COMLEX scores.
The ACGME is actively attempting to rid its sponsoring institutions and programs of
mistreatment and overworking through Common Program Requirement and Policy Updates
which severely punish institutions and/or programs with clinical and educational work hour
violations or bullying issues. However, fear of intimidation and remains pervasive throughout
GME culture so it will likely continue to take many years for true change to culminate into an
industry-wide culture shift.
Sources:
AMA:
https://www.ama-assn.org/residents-students/preparing-medical-school/how-do-
medical-schools-use-pass-fail-grading#:~:text=During%20the
%202017%E2%80%932018%20academic,last%20year%20data%20was%20available.
Op-Med:
https://opmed.doximity.com/articles/i-did-the-math-full-time-full-service-doctors-
cannot-ever-have-a-work-life-balance?_csrf_attempted=yes
ACGME:
https://www.acgme.org/What-We-Do/Initiatives/Physician-Well-Being
Sheriff of Sodium:
https://thesheriffofsodium.com/2020/07/06/the-residency-selection-arms-
race-part-1-on-genghis-khan-racing-trophies-and-usmle-score-creep/
Stakeholder 2: Medical Schools & GME Institutions
---

By: Viktor LaPorte, MBA, Consultant
---
The Growing Physician Shortage
The Association of American Medical Colleges posted a
document
detailing
The
Complexities of Physician Supply and Demand: Projection From 2018 to 2033
. As
generations start aging and new diseases arise, the demand for physicians will increase
over time. There is a growing minority population in the United States and another major
concern is the representation of minorities in Medical Schools and hospitals. To help with
the shortage of physicians of minorities in hospitals, medical schools have to start looking
forward to accepting people into their programs of different races. There is a stigma around
foreign medical school graduates and why those that graduate from foreign schools are
important for the growing population. With the demand for diversity in medicine and
hospitals, medical schools need to increase acceptance rates and form diverse
backgrounds. With increasing class sizes, medical students are required to take Sub-I
rotations during clerkships, which is making it more difficult for medical students to get
this kind of required training.
International Medical Graduates
The American Medical Association published an article in October 2019 titled, "
How IMGs
have changed the face of American Medicine
". With the growing demand for Physicians,
more than ever hospitals need to start looking at those that have graduated from foreign
medical schools. Below is a
chart
that showcases some important facts about IMGs: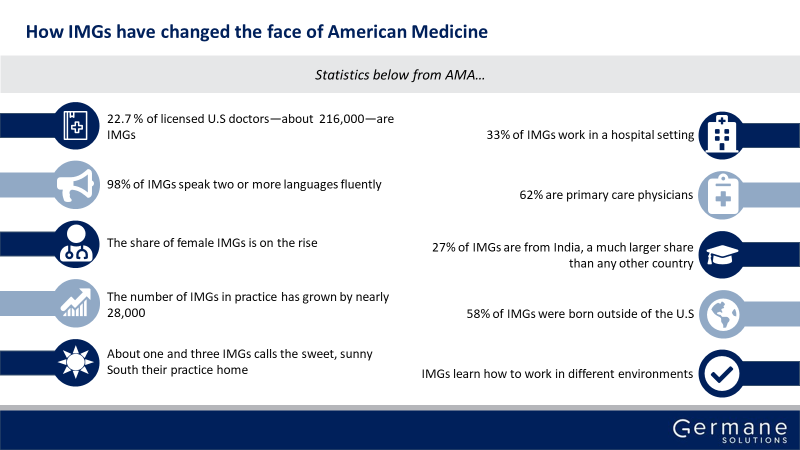 Minorities in Medical School and Hospitals
Over the past several years medical schools have seen an increase in the number of
minorities applying and being accepted into medical schools. Even with the huge increase
in minority medical students, there is still under-representation in medical schools.
According to
research
by Penn Medicine "From 2002 to 2017, the number of total medical
school applicants increased 53 percent — from 33,625 to 51,658 — and the number of
enrolled students increased 29 percent — from 16,488 to 21,326. During this time period,
proportions of individuals that identify as black, Hispanic, and Native Hawaiian/Pacific
Islander in the U.S. aged 20 to 34 years old grew, while proportions of white individuals
decreased, and AIAN individuals were stable." Even with the shift in demographics in the
United States, the authors still found that medical schools are still lacking minority
applicants.
PRC custom research published an
article
titled,
Minorities in Health Care: Adjusting with
the Times and Paving the Path for Healthcare Diversity.
"As the minority population
continues to grow, so does the need for increased minority representation in healthcare.
Healthcare organizations must adjust to the times to constantly seek improvement and
patient satisfaction. As more organizations develop patient satisfaction-based cultures, it's
important to connect with
every
patient who walks in the door. Racial patients who have a
choice in their physicians are more likely to select those sharing their own race or ethnic
background because they feel a stronger personal connection in terms of language and
cultural sensitivity, according to a study by John Hopkins University." Many patients do not
have the luxury of choosing their doctor because of the hospital or the structure of their
insurance. Many patients are withholding information from their doctors because they do not
feel comfortable with their doctors.
Clerkships and Sub-I Rotations
The increasing demand for physicians means there are going to increase class
sizes in medical school and request for clerkships. The Journal of the Missouri State
Medical Association published an
article
, "
The Crisis of Clinical Education for Physicians in
Training
." Medical schools have reported via surveys have they have had an increase in
students and a decrease in spots for clerkships. "Although the number of osteopathic and
allopathic medical students requiring clerkship spots has increased, there has not been a
commensurate increase in the number of clerkship spots nor has there been an increase in
clinical preceptors. There are several additional factors that compound this challenge.
Many community-based hospitals have closed, or been acquired by larger organizations,
decreasing the available hospital-based rotations for students. Preceptors who have
historically provided clinical education are retiring, and many preceptors are joining
practices that limit medical students, or don't permit students at all." There just are not
enough preceptors to handle the increasing class sizes, hospital need to start appointing
more receptors to accompany the growing class sizes.
Conclusion
There is no surprise that the United States is growing in population and more importantly
grow in diversity. In the foreseen future, there is going to be a shortage of physicians to be
able to care for the growing population. IMGs are starting to dominate the medical industry
and are bring diverse experiences to the health systems. With an increase in demand, hospitals
need to be more accepting of graduates from foreign schools. In the past few years, there
has been a push for diversity in medical schools and hospitals. Have a diverse group of
doctors will prepare health systems to ready themselves for the United States'
diverse population. This will allow patients to feel comfortable when going for doctor visits.
Growing class sizes in medical school are great for the future of medicine, however, there
are adverse effects because spots for clerkships are limited and preceptors are hospitals
are starting to retire or there are not enough to train the larger class sizes. With the demand
growing for physicians it is time to stop putting stigmas on IMGs and embracing the diverse
array of knowledge they are bringing to the positions.
Sources:
AMA:
https://www.ama-assn.org/education/international-medical-education/how-imgs-have-
changed-face-american-medicine
AAMC:
https://www.aamc.org/system/files/2020-06/stratcomm-aamc-physician-workforce-
projections-june-2020.pdf
PRC Custom Research:
https://prccustomresearch.com/minorities-in-healthcare-adjusting-
with-the-times-and-paving-the-path-for-healthcare-diversity/
Penn Medicine:
https://www.pennmedicine.org/news/news-releases/2019/september/
minority-students-still-underrepresented-in-medical-schools
The Journal of Missouri State Medical Association:
https://www.ncbi.nlm.nih.gov/pmc/
articles/PMC6797035/
Stakeholder 3: Hospitals & Health Systems
---

By: Zana Hekmat, Analyst
---
Introduction
Based on the current 2020 projections by the Association of American Medical Colleges
and shown below in Exhibit ES-1, the
total physician shortage is between 54,100 and
139,000 physicians by 2033.
Although this data is alarming, it provides valuable information
and should inspire strategic objectives on the federal, state, health system, practicing
physician, medical school/GME, and medical student/resident/fellow levels. In this report we
will review the key information from the original report itself, with related data resources to
develop a deeper understanding of the health system's role in the complex health care
system, and recommendations moving forward.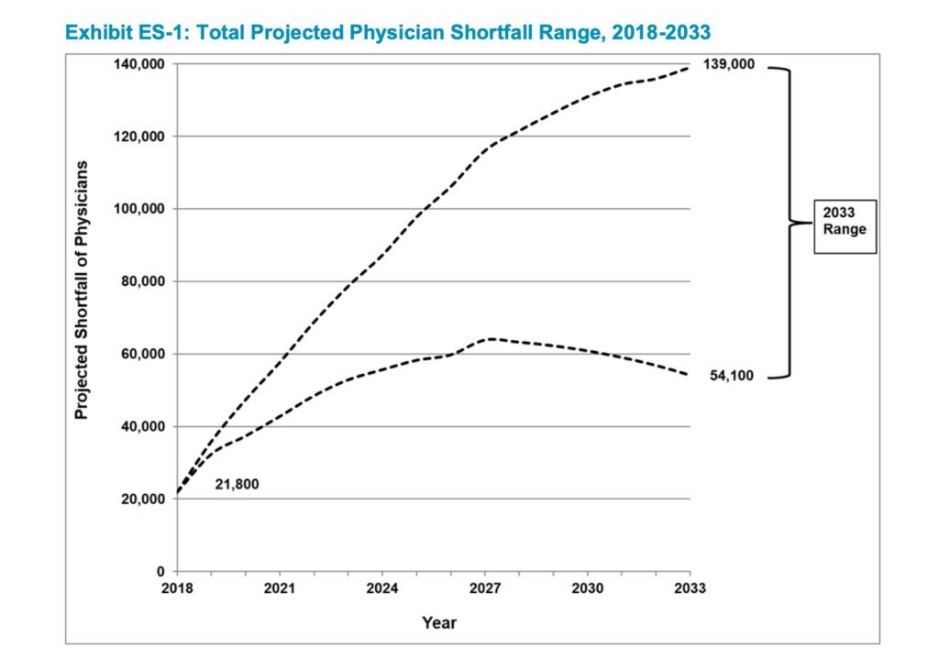 Use of Advanced Practice Providers (e.g., APRNs and Pas) to supplement shortage
According to the research article
Impact Of Physicians, Nurse Practitioners, And Physician
Assistants On Utilization And Costs For Complex Patients
and several other articles, there
has been accelerated growth in the supply of advanced practice registered nurses (APRNs)
and physician assistants (PAs), mainly due to workforce needs, demographic, and chronic
disease trends. The article further states that due to the primary care physician shortfalls
and the rapid growth of APRN and PA supply, APRNs and PAs are taking on a greater
responsibility in the care of patients experiencing ailments. The article,
The Complexities of
Physician Supply and Demand: Projections From 2018 to 2033
, elaborates on this point
further, indicating that published research proposes that patients in primary care settings
receive only 55% of suggested chronic and preventive services from their physicians. The
article suggests APRNs and PAs can partially substitute the remaining services to patients
by some capacity. However, it will also require further insight and data to gauge the extent
of changes and implications on physician shortages due to APRNs and PAs. Particularly,
input from physicians, APRNs, and PAs, as well as the health systems that employ these
providers, will be key to effectively gauge this level of understanding relative to supply,
market saturation for hospitalists, and growth trends in hospital inpatient care.
All in alignment with initiatives taken by states, public and private health insurance
programs, and managed care plans, it will necessary for health systems to understand the
value that advanced practice providers are contributing in both a patient care standpoint
and revenue/reimbursement standpoint. By hiring more APRNs and PAs and appropriately
coding for certain services., health systems can provide more high-quality care, increase
physician productivity, and replace some functions as physicians in some specialties.
Use of GME to Develop Physician Pipeline
Mending the physician shortage necessitates a multifaceted methodology, comprising of
innovations in several key areas by the health system. One approach to doing this is by
growing and enhancing Graduate Medical Education (GME) to develop the physician
pipeline. Traditionally speaking, for-profit health systems sidestepped GME programs mostly
due to assumptions that teaching hospitals were expensive, disorganized, and possessed
impracticable academic requirements. However, depending on several factors such as the
strategic objectives, mission, and federal GME funding available for uncapped hospitals/
health systems, organizations can greatly benefit from GME activity.
These direct and
intangible benefits can be seen on 5 different levels, comprising of the resident/fellow,
sponsoring institution, local community, university sponsors and affiliates, and benefits to
the greater community and nation.
Specifically, GME adoption may result in benefits
including
health system productivity, quality, coverage, economics, recruitment, and
support of complex care delivery needs.
Health systems can greatly benefit by pursuing
GME and, in turn, will develop the physician pipeline to address the alarming shortage
nationally. Germane Solutions offers consultative finance services to maximize
reimbursement and funding for health systems with existing GME activity, as well as
institutions ambitious of GME development and implementation.
Initiatives/Policies
Health system initiatives and policies ultimately dictate telemedicine/telehealth, preventive
medicine, and physician wellness/well-being. Efforts to improve health care delivery and
rising medical costs can be seen by the increased use of telemedicine/telehealth. To enable
the growth of inexpensive and accessible patient care services through telemedicine,
clinical, administrative, and research communities should align to expand the use of
telemedicine to our deserving patient population.
Health systems will have the shared
responsibility to incorporate these innovative technologies to appropriately help balance the
challenging and uncertain physician workforce supply and demand.
Furthermore, health systems should encourage preventive care services to improve
population health by means of enhanced testing, counseling, and patient adherence to
treatment regimens. Organizing care across care-delivery settings will lead to declined
patient readmissions to the hospital and possibly demand for physicians under certain
assumptions.
Efforts continue to prevent avoidable hospitalizations and emergency visits
through increased access to primary care and preventive services and to divert emergency
visits to appropriate lower-cost settings such as physician offices, retail clinics, urgent care
centers, and crisis centers for behavioral health conditions.
Lastly, health system initiatives and policies should direct attention towards physician
wellness and well-being. Growing worries regarding physician burnout, recorded in
scientific literature, indicate physicians will be more likely to speed up than postpone
retirement.
In 2016, 10 CEOs of major health systems declared physician burnout a public
health crisis in Health Affairs journal.
To address physician burnout, health systems should
hire and fully support the work of a physician executive leader focused on physician
wellness. This person could be identified as the Chief Wellness Officer (CWO), with
the responsibility of monitoring the organization, implementing best practices, and managing
outcomes related to physician burnout and satisfaction.
Conclusion
It is a shared responsibility between all individuals and entities to address the substantial
physician shortage in the United States. Health systems hold a shared responsibility with
other health care institutions, governing bodies, and regulatory authorities to address the
public health crisis that demands urgent attention. While there may be several solutions and
opportunities to alleviate the problems, it will be a collective effort to set the stage for long-
term improvement and a healthy medium of supply and demand of physicians.
Stakeholder 4: State-Level Leadership
---

By: Treven Cade, Administrative Intern, University of Dayton
---
It is well documented that America is and will be experiencing a physician shortage now
and into the following decades. The problems encouraging this shortage include a low
priority towards primary care from rising healthcare workers and a severe lack of healthcare
in rural America. Many states are enacting legislation, such as improving the scope of
telemedicine and the non-physician workforce. While the previous decade of legislation had
little effort to directly address the ongoing physician shortage, present and future
healthcare legislation has taken up this dilemma as a primary objective.
The source of these physician shortages is multifaceted and rooted in systemic issues
across the country. Primary care is seeing less attention from medical students as most
seek to practice in large cities, compared to rural areas across the country, and student
loan debt pushes more graduates into higher-paying specialty care. Lower primary care
reimbursement, also, makes it less favorable for doctors to practice primary care and in
low-income areas. However, while there is indeed an increasing physician shortage, other
facets of medical care are seeing an increase in their numbers, such as APRNs and PAs;
although such professions are held back by not being able to practice medicine as an
ordinary physician would. Simply put, fewer and fewer incentives exist for practitioners and
medical students to naturally improve the physician shortage as they go about and into their
careers.
A number of general approaches exist that many states are beginning to implement to
decrease the trend of physician shortages. These approaches include a changing workload
for non-physician practitioners, widening the certification of telehealth across multiple
states, increased attention for primary care, and multiple forms of reimbursement.
First, beginning with Florida, the scope of work of APRNs and PA are being increased, "that
would allow [them] to practice independently and expand their scope of practice by
authorizing them to sign documents that otherwise require the signature of a
physician" (Nastasi). A similar bill is being discussed, also in Florida, increases the scope of
a pharmacists' work, such as their work with initial treatment. Second, and continuing with
Florida legislation, "lawmakers passed significant reform to allow for wider use of
telemedicine. The legislation created a registration process that allows out-of-state
providers to provide telehealth services in Florida without obtaining a license in the
state" (Nastasi). Many other states are following suit providing unique licenses for telehealth
across different states and including telemedicine in Medicaid to make give more
opportunities for reimbursement. Legislation such as this encapsulates the intrinsic value of
telehealth: as it is done remotely, removing the barriers for telehealth to be accessible and
viable across different states can bring about a large improvement for the physician
shortage across the country.
Third, states are enacting ways to improve quality care and incentive medical practice in
rural areas. Beginning with the former, Washington state, "establish[ed] the International
Medical Graduate Workgroup, consisting of governor-appointed members that represent
the department of health, health insurance carriers, community, and migrant health
centers" ("State Policy Approaches"). Addressing the latter, Iowa enacted a law in May
2019 that will provide opportunities for residency students to participate in rural rotations
for exposure to rural areas of the state" ("State Policy Approaches"). California, through its
Assembly Bill 1759, has also sought to increase funding for healthcare in rural areas.
Improving the quality of care with an emphasis on community and rural areas will be prone
to address the main concerns of the physician shortage.
Fourth, two states (Alaska and Hawaii) have sought to improve their healthcare faculties
through loan repayments. Alaska's bill, "would provide student loan repayments and direct
incentive payments to eligible healthcare professionals, as defined by the Health Care
Professional Workforce Enhancement program" ("State Policy Approaches"). Similarly,
Hawaii is seeking to improve loan reimbursements for non-physician healthcare workers,
such as nurses. While this will not directly improve the physician shortage, it can address
the problem as non-physicians have an increased role in the medical field.
Which direction is our legislation taking to solve the physician shortage? Taking
advantage of the increased supply of APRNs and PAs, states, such as Florida, are
increasing their role in the healthcare field. Telehealth is also becoming more progressive,
as it is now able to cross state boundaries with legitimacy. States with rural areas with a
high healthcare demand are seeking to improve the quality of care and prioritizing those less
dense areas. Lastly, states are also seeking to improve student loan reimbursements, which
could incentive new medical graduates to shift away from the higher-paying specialty care.
Of course, each and every state will have its own unique ways of addressing the shortage.
With these different approaches, it will be vital to inspect each state's improvement so
more can follow more or less in their footsteps.
Sources:
CalMatters:
https://calmatters.org/projects/californias-worsening-physician-shortage-
doctors/
The Reason Foundation:
https://reason.org/commentary/how-state-level-reforms-could-
alleviate-the-looming-physician-shortage/
Association of State and Territorial Health Officials:
https://www.astho.org/
StatePublicHealth/State-Policy-Approaches-to-Address-Healthcare-Workforce-
Shortages/06-12-19/
Stakeholder 5: Federal Leadership
---

By: Treven Cade, Administrative Intern, University of Dayton
---
The Association of American Medical Colleges (AAMC) Physician Supply and Demand
Report projects a physician shortage between 54,100 to 139,000 in our country by the year
2033. As the report was conducted in 2018, these projections do not account for the
current pandemic. If a government's duty is to protect the health and well-being of citizens,
what acts are occurring at the federal level to address this increasing trend of physician
shortages? To illuminate the path forward, one can look towards past legislation, current
legislation, and current advocacy from medical associations. With this methodology, a
trajectory can be identified from what has happened, what is happening, and what has the
potential to happen.
Beginning chronologically, with past legislation, healthcare legislation has been
enacted; however, few have directly addressed physician shortage. Although, to its credit,
the legislation of the past decade has, "aimed to improve patient satisfaction and access to
high-quality, affordable care" (p. 35). Looking at the Affordable Care Act (ACA) specifically,
among its efforts to improve the general gist of American healthcare, it provided more
opportunities for technology in healthcare, "such as electronic medical records and
telemedicine" (p. 35). However, technology can both hinder and help physician shortage:
while it can quicken the process of healthcare, it can also increase the longevity of patients,
requiring more time from physicians. Overall, the legislation of the past decade has
attempted to improve our country's healthcare and its accessibility; however, the physician
shortage did not seem to be a priority.
Shifting toward current legislation, there are four recent bills that have been discussed on
the federal level that have prioritized the physician shortage (as well as a few reflective non-
legislative efforts that will be detailed shortly): Senate Bill 192, Senate Bill 348, Senate Bill
884, H.R. 1656. Before developing upon these bills, the common themes are an emphasis
on community health programs, increased funding, and most importantly redefining the
conception of the
physician
to incorporate a variety of different healthcare workers.
First, Senate Bill 192, provides extra opportunities for community health centers through a
reauthorization of funding. Specifically, quoting the bill itself, it is an amendment to, "the
Social Security Act to support rural residency training funding that is equitable for all
States." Second, Senate Bill 348 (aptly titled "Resident Physician Shortage Reduction Act of
2019") is an attempt to increase the number of resident positions in the healthcare industry, one
aspect of the bill, similar to Senate Bill 192, prioritizes hospitals with community-based
training. Third, Senate Bill 884 addresses mental health: it aims to classify clinical
psychologists as physicians for their specific work in their field. In regard to the previously
mentioned non-legislative efforts, there is an increased supply of APRNs and PAs that will
inevitably take up the mantle of some of the work of today's physicians. Fourth, H.R. 1656
could bring a much needed $10 Million annually (for 2020-2027) to children's hospitals
across the nation. Contrary to the country's main medical problem of an aging population,
increased attention to children's healthcare could perhaps get children out of the grip of
sickness before its detriments them further into adulthood, which could lessen the overall
work of our country's physicians.
There is a continued push within current advocacy for increased data collection, a
transformative approach to the healthcare industry, and improving general health. The
AAMC, per their report, showcases the former, and it is stated from their associations three
primary aims: "(1) updating and improving workforce projections, (2) presenting new
analyses on the workforce needed for a growing and aging population and an evolving
health care system, and (3) identifying future directions for research to inform and improve
these projections" (p. 49). The Accreditation Council for Graduate Medical Education
(ACGME) plans to partner with multiple organizations to improve healthcare quality and
education. By improving the clinical learning environment will improve the dynamic
between graduate education and the healthcare field. Finally, Healthy People and the
Center for Disease Control and Prevention are continuing their objective of reducing the
commonness of diseases and conditions in America. Along with the legislation currently
being discussed, these advocacies will be able to continue their goals through the
legislations' common themes.
What is being done to improve the physician shortage in America? Throughout years past,
this seems to be a dilemma not given priority; however, with increased data collection to
identify these shortcomings, legislation now seems to be attempting to view it
wholeheartedly (in some cases, even tackling it directly!). As time goes by, it seems the
the solution will be transforming the
physician
: enlarging the umbrella to which more
healthcare workers, such as APRNs, PAs, and the like can have an impact on the healthcare
field.
Sources:
ACGME:
https://www.acgme.org/What-We-Do/Initiatives/Pursuing-Excellence/Overview
AAMC:
https://www.aamc.org/system/files/2020-06/stratcomm-aamc-physician-workforce-
projections-june-2020.pdf
Germane Solutions: https://www.gmeuniversity.com/copy-of-matt-boll-2-28-transcript