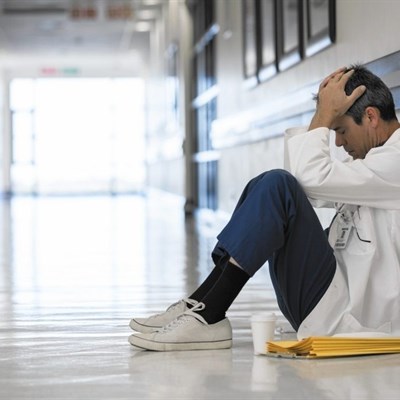 Case Studies of Excellence by Burnout Factor
Well-being, Burnout, Moral Injury. In the American healthcare workforce, these are not just
buzzwords. ACGME, AAMC, AMA, and AHA - you name an acronym and that association is
taking well-being seriously. Research, case studies, and white papers have exploded over
the last five years with physicians and their advocates voicing the ever-growing need to
identify the root causes of burnout and spotlight examples of addressing those causes
head-on.
But what are they? Maslach, Schaufeli, and Leiter (2001) at the University of California,
Berkley first described burnout as "a prolonged response to chronic emotional and
interpersonal stressors on the job... defined by the three dimensions of exhaustion, cynicism,
and inefficacy." Building upon earlier work of Maslach & Leiter (1997), they expanded that
burnout is often composed of mismatches between a person and his/her work environment
within one of six domains identified as workload, control, reward, community, fairness, and/
or values.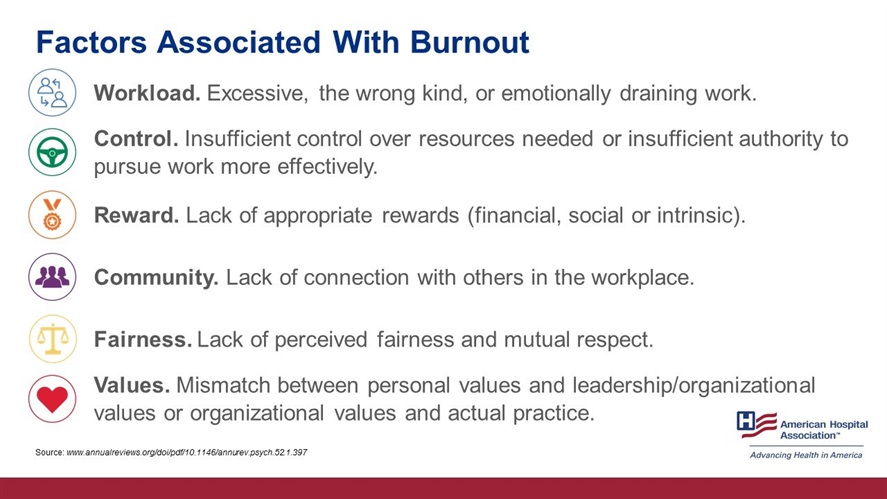 With COVID-19 as a massive stressor impacting our nation's physicians and healthcare
workers, there are silver linings: Hospitals and Healthcare Systems that are focused on
large-scale, sustainable practices for combating burnout in the field of healthcare. But how?
Let's take a look at how six major healthcare systems in the United States are
demonstrating excellence in each of the six factors associated with burnout.
Workload: Cincinnati Children's Hospital Medical Center
Physicians at Cincinnati Children's Hospital Medical Center published, in the May 2020
Journal of Hospital Medicine, their response to COVID-19 through a lens of efficiency and
wellness assurance. The article details six main methods of combating the draining nature
of emotional work during a time of crisis.
Methods utilized for mitigating physician burnout by directly addressing physician workload
included:
Anticipating needing a deeper backup pool than normal and requesting physicians to
volunteer so as to reinforce their existing pool. Two (2) volunteer shifts per day were
scheduled in addition to the existing backup pool.
Anticipating opportunity to transform service lines and planning out how to redistribute
available physician workforce if one or more service area (such as elective surgeries)
were canceled.
Sharing the clinical burden of patient-facing physicians with physicians not providing direct
patient care. Duties shared included "accepting direct admission phone calls, triaging
patient care calls, entering orders remotely, and assisting with care coordination needs."
Creating a "System of Emergency Childcare Coverage" option for physician parents by
age range and geographic proximity.
Creating "Support Pods" by division with group text chains, phone or video chats for
peer-support and a sense of community.
Collated resources such as food, drink, meditation, exercise, entertainment, and
community-driven support mechanisms for all healthcare workers to combat loneliness
and reinforce personal resilience.
Source:
Katie A Meier, MD, Karen E Jerardi, MD, MEd, Angela M Statile, MD, MEd, Samir S
Shah, MD, MSCE, MHM, Pediatric Hospital Medicine Management, Staffing, and Well-being
in the Face of COVID-19.
J. Hosp. Med
2020;5;308-310. Published online first April 14,
2020. doi:10.12788/jhm.3435
Control: University of Florida College of Medicine
With news of ventilator and mask shortages looming as a potential problem in caring for
COVID-19 patients during the pandemic, the University of Florida Department of
Anesthesiology took matters into their own hands. Samsun Lampotang, PhD, quickly
organized a team of physicians and engineers to utilize readily available resources found at
home improvement stores and open-sourced a method of creating a ventilator prototype
that could be used in emergent situations.
Dr. Lampotang told UF Health News Reporter in a recent interview, "The way I looked at it
is, if you're going to run out of ventilators, then we're not even trying to reproduce the
sophisticated ventilators out there. If we run out, you have to decide who gets one and who
doesn't. How do you decide that? The power of our approach is that every well-intentioned
volunteer who has access to Home Depot, Ace, Lowe's, or their equivalent worldwide can
build one."
Peers within the same Department took control of mask shortages. Led by Sonia
Deschmukh, MD, a team organized to open source two mask prototypes--both passing
N-95 fit tests with flying colors.
The greatness of this approach was control. The faculty, with full support from their
Department and the greater community refused to accept they were powerless in the face of
challenge. Supported by UF, Shands, and Department leadership, faculty and staff rallied
together to find a solution, test it, and share the information quickly, efficiently, and
effectively with the larger medical community.
Ventilator Source
:
https://simulation.health.ufl.edu/technology-development/open-source-
ventilator-project/
Mask Source:
https://anest.ufl.edu/clinical-divisions/mask-alternative/
Reward: Northwell Health
While Northwell Health recently made the news by
providing $2,500 bonuses to all eligible
frontline workers during the COVID-19 pandemic
, their approach to the reward category of
addressing well-being doesn't end in monetary contributions. For more than two years, the
Northwell community highlights best practices and stories of encouragement stemming
from their workforce on a weekly basis.
Titled "Inspiring People", Northwell Health motivates its employees by routinely highlighting
best practices, ingenuity, bravery, and resilience. Not only does this create a sense of
community and appreciation for going above and beyond in their organization, but
demonstrates a commitment to rewarding physicians, healthcare workers, and other
essential employees into aspiring to be the best versions of themselves.
Source:
https://www.northwell.edu/news/inspiring-people
Community: HCA Healthcare
With over 184 hospitals and 1,800 sites of care, located in 21 states and the United
Kingdom, it can be hard to establish a community. HCA Healthcare, however, never shies
away from implementing a best practice at an unprecedented scale. Dr. Michael Cuffe,
President of the Physician Services Group at HCA Healthcare, shared this vision for a
unified GME footprint in a March 2019 podcast.
In an effort to promote community, HCA Healthcare GME leadership worked collaboratively
across its organization to create a shared vision for Graduate Medical Education--from
frequent video conferences and national forums to share best practices and a one-stop-shop
website for sharing this information to their GME Community, to unveiling its brand new
HCA Healthcare Journal of Medicine now on its second issue.
Podcast Source
:
https://hospitalsinfocus.podbean.com/e/training-a-new-generation-of-
america-s-doctors-%E2%80%93-how-hca-healthcare-is-changing-the-graduate-medical-
education-landscape/
GME Community Source:
https://hcahealthcare.com/physicians/graduate-medical-
education/
HCA Healthcare Journal of Medicine:
https://scholarlycommons.hcahealthcare.com/
hcahealthcarejournal/
Fairness: Mayo Clinic
In order to develop a culture of fairness across its health system, the Mayo Clinic developed
and subsequently implemented the Listen-Act-Develop model of physician engagement in
community decisions. Comprised of four steps (Figure 1), the model is consistent with
addressing more than one of the six factors proposed by Maslach, Schaufeli, and Leiter
(2001).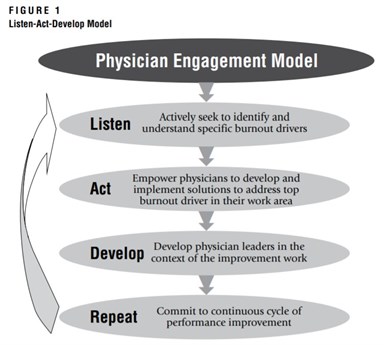 The key ingredient is fairness. Through this model, Mayo Clinic achieves fairness by actively
listening to stakeholders and providing them with a forum to equitably support all clinical staff
with behaviors that "bolster a sense of appreciation, fairness, transparency, collaboration,
and individual responsibility - with respect for each individual's contribution to the process
and outcome(s)
Source:
https://www.aan.com/siteassets/home-page/conferences-and-community/live-
well/17mayoclinicexperience_cc.pdf
Source:
https://mcpiqojournal.org/article/S2542-4548(19)30106-7/pdf
Values: Emory University School of Medicine
The Department of Radiology at Emory University School of Medicine tackled the sixth and
final domain, values. Within the arena of Graduate Medical Education, values are bundled
within the emerging term, "implicit curriculum". Leon Burton defines Implicit Curriculum as
"crafted within the thinking processes of individual teachers but not written down or
published, and therefore not able to be replicated by others.". In essence, educating young
physicians into a given value system is more of an art rather than a science. This is often
seen in Graduate Medical Education as faculty work to engrain shared values and norms
that align with their personal, organizational, and vocational values.
Members of the Department of Radiology and the Association of University Radiologists-
Radiology Research Alliance (AUR-RRA) looked to create a systematic approach to instilling
shared values through Graduate Medical Education.
One of the best practices identified by the authors was utilizing role modeling of physician
behaviors, attitudes as a groundwork for communication. When s/he sees a learner
(medical student or Resident) whose behaviors are misaligned with values set forth by the
organization or vocation, the faculty is to both communicate variances and role model
differences so the implicit curriculum, therefore, becomes explicit.
Source:
Keith D. Herr, Elizabeth George, Vikas Agarwal, Colin D. McKnight, Liwei Jiang,
Anugayathri Jawahar, Mini Pakkal, Adam Ulano, Dhakshinamoorthy Ganeshan, Aligning the
Implicit Curriculum with the Explicit Curriculum in Radiology, Academic Radiology, 2020.