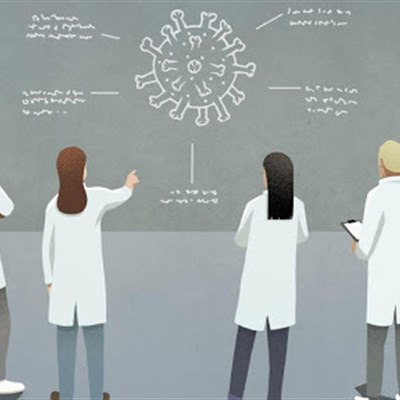 COVID-19's Novel Impact on UME and GME
---

Author: Michelle Maire
---
It's been nearly one year since the unforgiving coronavirus permeated the country's hospitals and health systems. We've seen how COVID-19 has disrupted our day-to-day lives, leading to various adaptations and adjustments, some for the better, while other mitigation and innovations are being drawn up and attempted. Only time will tell how the infrastructure and operations of health care will evolve, but we can provide real-time insights into the obstacles and unique solutions that both undergraduate and graduate medical education training programs have employed. This quarter, we will examine the educational challenges and innovations the healthcare landscape faced in this pandemic. With vaccinations en route, a variety of scholarly activities were published in the hopes of understanding the impact of COVID-19 on medical education in the future.

Technology moguls have hit the jackpot this past year with many medical educational activities - such as didactics, lectures, and modules - transitioning to virtual learning platforms. Although previous studies show that medical students prefer online teaching modalities since they can study more effectively in their home environment and save on travel expenses and time, pre-clinical students may become more susceptible to burnout. Similar to those with 9-to-5s, abruptly working from home caused the lines between work and home to blur. Across the country, newly remote personnel have experienced lower work productivity, decreased motivation, increased stress, and deteriorating mental health. Similarly, UME students confront biopsychosocial issues at play: limited or lack of contact time with tutors, peers, and mentors harm not only the students' ability to learn and process information but on their ability to foster human connection and build interpersonal and communication skills necessary for succeeding in their future GME programs. Current residents and fellows in GME programs are learning how to handle these same challenges but on a greater emotional scale.

In a study aimed at analyzing the effects of COVID-19 crisis-related stressors on medicine and surgical residents' professional and personal lives, junior IMGs reported experiencing higher anxiety levels than senior IMGs (9 [8,10] vs. 6 [2,8]) [P=0.003], such as fear of inadequate PPE, stress from disruption of training, loss of clinical and operative experience, obtaining reliable childcare, and the uncertainty of visa statuses in times of crisis. The unpredictability and fervor of the coronavirus left healthcare workers across the country to see firsthand death tolls and critical care cases abound beyond any previous historical benchmark. Furthermore, newly trained physicians entering the workforce have less experience caring for patients at the risk of rapid death than their counterparts.

Looking to the future, access to mental health, legal, and advocacy resources, as well as an opportunity for death education and teachable skills in delivering bad news must be addressed and reprioritized for circumstances such as this.

There is a brighter side, however, to UME and GME trainees' educational experience. 79% (76 of 96) of learners agreed that modified schedules (e.g., one week 'on', one week 'off') implemented by their programs to minimize direct patient contact were an effective way to handle resident education amid the outbreak (Hackett). Other study participants experienced 'work from home' time as part of their modified schedules, even citing that "this has been a blessing because [I] have used the time off to complete some research projects that have lingered for months", as well as spending their extra time out of the hospital reading academic journals, doing practice questions, and/or volunteering (Hackett). As residents reallocate time that would've been spent clinically towards these tasks instead, they are developing self-directed studying skills, resilience, adaptability, flexibility, and mental fortitude.

Throughout the next few months, we'll delve further into the significance of virtual learning and advancements in technology for medical education, as well as its impact on learners' mental health and well-being. We will also encounter the evolution of patient care in residency programs as it relates to welcoming new methods of delivering quality education.

Sources
(1) Sani, Immanuel, et al. "Understanding the Consequence of COVID-19 on Undergraduate Medical Education: Medical Students' Perspective." Annals of Medicine and Surgery, Elsevier, 5 Sept. 2020, www.sciencedirect.com/science/article/pii/S2049080120302934.

(2) Toniolo-Barrios, Mariana, and Leyland Pitt. "Mindfulness and the Challenges of Working from Home in Times of Crisis." Business Horizons, Elsevier, 5 Oct. 2020, www.sciencedirect.com/science/article/abs/pii/S0007681320301191.

(3) Hackett, Christopher, et al. "Medicine and Surgery Residents' Perspectives on the Impact of COVID-19 on Graduate Medical Education." Taylor & Francis, 13 Sept. 2020, www.tandfonline.com/doi/full/10.1080/10872981.2020.1818439?scroll=top&needAccess=true.