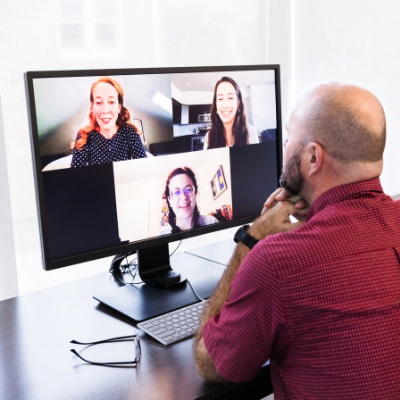 Virtual Learning/Technology from COVID-19
---

Author: Michelle Marie

---
Over the recent decades, America's educational leaders have grown accustomed to supplementing classrooms with technological modules, interactive platforms, and other remote learning activities. Online learning in higher education has also flourished with the evolution of the internet; however, when it comes to undergraduate (UME) and graduate medical education (GME), students had not experienced remote learning until the COVID-19 pandemic. Traditional didactic learning was challenged like no other time before, and the disruption of educational activities for medical students, residents, and fellows has impacted their wellness and sense of community.
When social distancing was still a foreign concept, many novel web-based tools were used in the education of UME and GME trainees. Phone applications such as WhatsApp were and continues to be used by trainees for both sharing of medical knowledge and collaboration, while social media (e.g., YouTube, Twitter, TikTok, Instagram) remains a useful outlet for many physicians to learn and disseminate information on a global scale in real-time. While this technology provides trainees with a virtual network for medical education, its unable to support day-to-day organization and implementation of educational curricula.
As the world adjusted to COVID regulations, the Accreditation Council for Graduate Medical Education (ACGME) acted fast in support of virtual communication in response to the pandemic as early as March 13, 2020. The ACGME canceled all accreditation site visits, Clinical Learning Environment Review (CLER), Program site visits, and all in-person educational and accreditation meetings worldwide for new and existing teaching hospitals. The ACGME immediately addressed the needs of programs, residents, and fellows as it pertains to requirements, permitting trainees to participate in the use of telemedicine to care for patients. The ACGME also amended the definition of
direct supervision
to include when the supervising physician and/or patient is not physically with the resident and the supervising physician is concurrently monitoring the patient care through appropriate telecommunication technology.
Medical education adapted to technologies that had previously only been used in business services and other industries (e.g., Zoom, Slack, Microsoft Teams). Along with these new platforms came additional training, integration, technical difficulties, and the need for all users to embrace the technology. In the early months of the pandemic, it was critical for UME and GME programs to replace large group in-person lectures with streamed online videos (live and recorded), and small group sessions and tutorials with interactive webinars, all via computers, cell phones, and tablets.
In the age of technology, telemedicine and virtual learning in health care are welcomed more often than opposed. It can be argued that an increase in telemedicine visits, and the likewise decrease in in-person visits, may reduce trainees' opportunities to develop their bedside manner and could serve as a barrier between physician-patient communication; however, telemedicine is largely purported to have a positive effect on the access and utilization of health care in both rural and urban areas, without increasing the ugju of infection. Telemedicine is known for its potential to reduce the costs of health care but is now helping to preserve the limited supply of personal protective equipment as well as reducing the backlog of deferred patient care resulting from clinic closures in response to the pandemic. Furthermore, patient satisfaction for telemedicine care is consistently high, as the increase in telemedicine for urgent and nonurgent ambulatory care (whether cases were related to COVID-19 or not) continues. A 2019 study published in the American Journal of Managed Care found that virtual video visits to be just as clinically effective and less expensive for both patients and physicians compared with in-person visits.
Now and in the future, programs must ensure that concepts—such as digital professionalism, communication, and other interpersonal skills—are fully explored and integrated into telehealth training. The future holds opportunities for the hospitals and health systems across the country to consider telemedicine's place in the day-to-day delivery of patient care. The innovative use of emergent technology due to the pandemic is building an individual and collective awareness and acceptance of technology-based tools and solutions. Its ongoing use is likely to continue in medical education for future UME and GME programs even as didactics and patient visits return to be in-person experiences. Concerns surrounding the loss of human connection between patient and physician are appropriate and must be addressed in training.
Sources
Almarzooq, Zaid I., et al. "Virtual Learning During the COVID-19 Pandemic." Journal of the American College of Cardiology, vol. 75, no. 20, May 2020, pp. 2635–2638., doi:10.1016/j.jacc.2020.04.015.
Accreditation Council for Graduate Medical Education, Common Program Requirements (Residency) Tracked Changes Copy. Mar. 2020.
https://www.acgme.org/Portals/0/PFAssets/ProgramRequirements/CPRResidency2020_TCC.pdf
.
Goh, Poh-Sun, and John Sandars. "A Vision of the Use of Technology in Medical Education after the COVID-19 Pandemic." MedEdPublish, vol. 9, no. 1, 26 Mar. 2020, doi:10.15694/mep.2020.000049.1.
Ghosh, Abhishek, et al. "COVID-19 and Physician-Patient Relationship: Potential Effects of 'Masking', 'Distancing' and 'Others'." Family Practice, Oxford University Press, 11 Sept. 2020,
www.ncbi.nlm.nih.gov/pmc/articles/PMC7543553/
.
Fix, Oren K., and Marina Serper. "Telemedicine and Telehepatology During the COVID‐19 Pandemic." AASLD, John Wiley & Sons, Ltd, 21 May 2020
Donelan, Karen, et al. Patient and Clinician Experiences With Telehealth for Patient Follow-up Care, American Journal of Managed Care (AJMC), 14 Jan. 2019,
www.ajmc.com/view/patient-and-clinician-experiences-with-telehealth-for-patient-followup-care
.