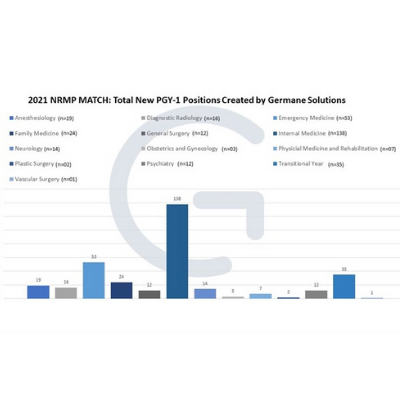 Germane's Contribution to the 2021 NRMP MATCH
---

Author: C. Powell Hutchinson, BSW, M.Ed.
---
Setting the Stage
The 2021 NRMP MATCH was indeed historical. Ambiguity surrounded both Programs and prospective residents at the onset of the recruitment cycle. Would prospective residents capitalize on an extended budget from reduced travel to overapply to programs? Would programs interview significantly more candidates? Would the repercussions of both decisions create a less optimal MATCH outcome due to programs competing for the same candidate pool?
Many experts hypothesized this year's MATCH would be detrimental to both Programs and prospective residents and a crisis was underfoot that may lead to the worst MATCH season in history. As a result, the NRMP created a fourth SOAP cycle for the first time.
Specialty Organizations warned prospective residents against 'interview hoarding
,' which accepts interviews at Programs they likely would not rank to match. Meanwhile,
the AAMC requested that Programs expand interview opportunities
to mitigate the unintended consequence of interview hoarding, failure to fill. In dispute of these warnings, academic medicine advocates such as
Bryan Carmody, MD
(e.g., The Sherriff of Sodium) and industry leader,
ThalamusGME
, rebutted this fear in real-time with data-driven insights indicating the 2021 MATCH cycle, by all accounts, was, oddly, no different than previous years—as least when it came to interviewing hoarding.
Fast forward to MATCH Day on Friday, March 19
th
, 2021, when the NRMP released its initial data on the NRMP MATCH, wherein ambiguity was finally cleared. Who was right? What fears were realized? In terms of a comprehensive outcomes analysis, we turn back to ThalamusGME, who released a same-day analysis of the MATCH results that, excluding SOAP outcomes which NRMP has yet to release, the 2021 MATCH generally faired the same as all other years. Record numbers of applications and matches for prospective residents and programs were seen across most specialties. A historic 2.6% increase in total positions filled, a marginal 0.3% increase in the percent of all positions filled (94.9%), and a 3.6% decrease in unfilled positions demonstrate the overwhelming success of a virtual-based recruitment season.
Germane's Contribution
Throughout the 2021 NRMP season, Germane was focused on providing support in two ways: (1) skillfully opening new PGY-1 positions to increase availability for the 2021 NRMP MATCH and (2) partnering as trusted advisors with our clients to ensure a holistic approach to prospective resident selection with a concentrated focus on minimizing the use of USMLE scores
which were delayed or canceled due to the Pandemic
and maximizing opportunities to recruit underrepresented minorities in medicine. Our desired outcome from these efforts was to support a well-paired MATCH between programs and prospective residents to support our long-term mission to create a lasting impact on the physician shortage by expanding Residency training experiences in the United States.
Like the NRMP, we celebrated a historic MATCH cycle alongside our clients. Through the 2019-2020 and 2020-2021 academic years, we supported the initial ACGME-accreditation of 46 new residency and fellowship programs with a total of 350 newly accredited PGY-1 positions entering the NRMP Main Residency MATCH for the first time. Our accreditation support services accounted for 37.7% of the total new PGY-1 positions available (n=928) in the
2021 NRMP MATCH
. The most significant trend we saw through this development was a much-needed concentration on Primary Care programs' accreditation, particularly Internal Medicine (138 PGY1 positions) and Family Medicine (24 PGY1 positions).
Our clients faired exceptionally well during the MATCH as well. With guidance and a little creativity, we explored alternate forms of interview selection criteria with successful metrics deployed, including:
Utilizing work, volunteer, and research histories combined with personal statements to identify career goal fits relative to the program's mission and aims.
Considering candidate work history during medical school in relation to standing in medical school quartiles, volunteer/research experience, and/or USMLEs.
Considering candidates with significant hands-on clinical experiences following medical school graduation dates greater than five-years from October 1, 2020.
These changes to interview selection intends to increase the probability of MATCHing residents with outcome-goals (e.g., private practice v. academic medicine), alignment of mission, vision and desired community impact, and
the ever-difficult identification of 'grit'
--all the while acting consciously to disassemble previous and often unintentionally discriminatory barriers faced by qualified prospective residents through a too concentrated focus on USMLE outcomes, honor society membership, and/or years since medical school graduation. There is much more to explore on these topics--and more shall come through a new series developed by our Diversity and Cultural Awareness Committee. This series will follow the academic year's ebb and flows to provide timely, evidence-based recommendations and best practices for increasing cultural awareness and competency, fostering an inclusive and equitable clinical and educational working environment, and intentionally working towards achieving more equitable representation of minorities in Medicine.