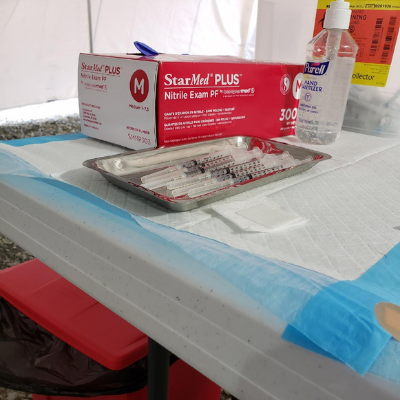 Bringing Passion into Practice
---



Author:

Susan Hearn, RN, BSN, MBA, Vice President of Germane Solutions
---
I remember seeing many patients throughout my early career in nursing, although this one was quite different. Once situated in his hospital room and surrounded by a few nursing students including myself, he solemnly spoke, and his words filled my fellow peers and me with a lingering sense of anxiety: "Will you wipe my brow?" We shuffled around for a short amount of time not knowing what to do, how the disease worked, or whether we would contaminate ourselves. After a moment of hesitation, I stepped forward, wiped the patient's forehead, and stepped back. In today's context of the pandemic, this situation may seem eerily similar. This patient was the first AIDS victim our hospital received in the '80s to the attendance of me, my fellow nursing students, staff nurses, and physicians. Flash forward a few decades later, and we would all encounter the same phenomenon—a new, unknown disease.

Perhaps that experience, and many others like it, prepared me to give back to my North Carolinian community. With my background as a nurse qualifying me to help with vaccine distribution, I asked "Why shouldn't I do this?" The organization that I volunteered for was the Alamance County Health Department, which distributed around 1,000 vaccines a day in a FEMA supported vaccine site. The distribution of the vaccine itself was surprising—it was not the image regularly depicted by the media. Each administrator gave around 100 vaccines per day with a patient retention time of about 30 minutes, including a mandatory 15 minutes of waiting for potential side effects after receiving the vaccine. There were no long winding lines or wait times; the process was well organized and patients were in-and-out.

As I have built my career as a healthcare leader, I have found great satisfaction in revitalizing my clinical practice in times of need. Over the years I have worked in many settings in an attempt to improve the health status of the communities in which I have lived as well as the global health community. Work I have done in underserved areas in the US, as well as Africa, has been pivotal in defining my personal commitment to improve health. I understand that becoming an RN was the chief cornerstone that led me to where I am today, but I have also found that my experiences in life relate to where I go and who surrounds me.

As a leader of Germane, being a role model for our employees is crucial. Our mission is very synergistic with my personal commitment to improving the health status of all people. At Germane, we want to support the physician workforce and eliminate the shortage of physicians that exists today. I lead this mission and support the culture that we are creating, but at the same time, I am molded by the efforts that I see the people of Germane making. The daily conversations and the projects I undertake are intimately developed by the people I share Germane with. In essence, the culture is molding me as much as I am influencing the culture.

Through my recent clinical service to the North Carolina community and my leadership of Germane, I have come to understand that the culmination of my experiences is indeed who I am. As I sought to be a role model for the company, I realized that the essence of what I was trying to model was the culture of Germane itself.

To help stop the spread of COVID 19 get your vaccination today. See vaccinefinder.org for locations near you.