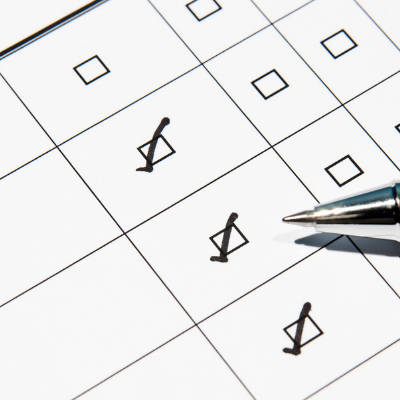 How to Prepare for the ACGME Resident Survey
---
Author: Beth Hock
---
Between February and April, the annual ACGME Resident/Fellow and Faculty surveys are administered to all ACGME accredited programs, which are used to monitor GME programs and their clinical experiences, as well as to provide warning of potential non-compliance with ACGME accreditation requirements. Before this window where the surveys are available, it is vital that both a program's resident/fellow and faculty rosters are updated within the ACGME's Accreditation Data System (ADS). The results of these surveys, once provided to the program, are a critical source of information for the Program Evaluation Committee (PEC), such as when the committee articulates the program's strengths and weaknesses along with their general evaluation, and the Residency Review Committee (RRC). While there will not be accreditation decisions made solely based upon survey results from the RRC, programs can face negative consequences from poor survey results, including citations, site visits, or a further request of information from the RRC. There are many ways to prepare for these surveys, and updating rosters, holding open communication, and understanding clear expectations when taking the survey are imperative for a beneficial and educational result.
While the specific context of the ACGME survey cannot be known beforehand, the surveys generally focus on certain content areas, such as the following topics with related questions:
Educational and Well-being Resources:

Do residents/fellows have time to interact in fundamental training experiences, such as with patients and structured learning activities?
Are residents/fellows educated in assessing patient goals?
Do residents/fellows have access to confidential mental health counseling or treatment?
Are residents/fellows given instruction on maintaining physical and emotional well-being?

Faculty Teaching and Supervision:

Do faculty members show an interest in educating?
Do faculty express an appropriate level of supervision?

Clinical Experience:

How many working hours per week are residents/fellows assigned; how many consecutive days can a resident/fellow work?
Is enough time provided for a resident/fellow to participate in patient care activities?
Program administration should talk with residents, fellows, and faculty before the survey is administered to increase survey participation and awareness. The report of the surveys will not be provided to the program by the ACGME if participation is below a certain threshold (70% participation is required by the program's current residents/fellows and selected faculty, respective to the survey—if a program has four or fewer residents/fellows and/or faculty, 100% participation is required). It should be emphasized to the participants that they be honest and aware of shortcomings of their program, focusing their feedback while circumscribing one facet of the program from another, unrelated area. Further awareness of the survey could be provided by the program via preparation material and common obstacles of the survey (such as not taking the time to read and comprehend the survey question being asked or educating participants that neutral or average responses are interpreted by the ACGME as non-compliant). These discussions of the survey bring awareness to such topics as cognitive bias, social desirability effects, contrast errors, and common survey challenges.
Encourage survey-takers to use institutional and program resources to address concerns and make these readily available. Such resources include the GME Open Door Policy, Community Affairs, and available hotlines. This channel of open communication ensures that the results of the survey will never be a surprise to program leadership. If previous concerns have been brought about by residents, fellows, and/or faculty, articulate to the relevant parties, or the program itself, how these concerns are being or have been addressed. This will allow participants to see what improvements have been made and show a clear view of the programs near future. Lastly, to entrust honesty in participants, note that data results are confidential, and the names of the participants will not be associated with responses.
This survey is an invaluable resource to view program strengths and shortfalls, bringing the ability to improve before weaknesses become burdensome, to keep education strong, and to ensure happy residents, fellows, and faculty. Results are a heavily weighted source of data for program accreditation outcomes, so program leaders should plan ahead of their members taking the survey, holding informational meetings, and opening avenues of communication.
More information about the survey can be found at the ACGME website, linked here. Print and/or distribute this website's resources to your participants, making available all information on accessing and filling out the survey, including FAQs and suggestions. The ACGME will notify programs of their participation at the beginning of the survey window, and it will be taken electronically. Programs are responsible for informing residents/fellows and faculty, respectively, that they are scheduled to take the survey. Individuals should be sure to request survey reminders on the above website. More specific dates can be found by logging into ADS. Deadlines are final – when the survey closes, the deadline has passed, so be sure that submissions are entered before this date. Summary reports will be available annually, given that the required response rate was fulfilled. Log into ADS and find reports under the "Survey" tab to see reports for a specific year.