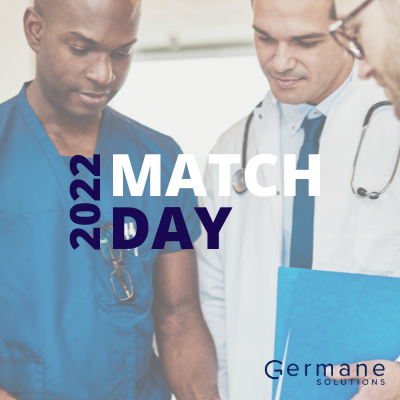 Germane Solutions' Contribution to the 2022 Match
---

Author: Treven Cade
---

The Match

Coming off the success of the 2021 National Resident Matching Program's (NRMP) MATCH, Germane—and we imagine many others—were curious to understand the outcome of 2022's MATCH Day. While not as surprising or as numerically successful as the 2021 MATCH, 2022's iteration was impressive nonetheless: it was composed of 47,675 registered applicants and offered 39,205 positions (the largest offering pool to date)—of which 94.2% were filled. This MATCH also included the largest offering of PGY-1 positions, at 36,277, and accordingly filled 93.9%. This information can be seen from the graphic below (or viewed here):



While both Percent of All Positions Filled and Percent of PGY-1 Positions Filled declined from the previous year, a report published by the NRMP on Match Day states that the MATCH rate for U.S. DO Seniors was 91.3% for PGY-1, which is a 2.2% increase from the previous year. Referring back to the Match by the Numbers (shown below) one can view that U.S. DO Seniors also had an increased fill rate into PGY-1 positions as well. However, U.S. MD Seniors had a minimal increase to matching into PGY-1 positions and a decreased fill rate.
Germane's Contribution
Germane continues to act as a trusted advisor to our clients, not only assisting in the creation of new GME programs, but ensuring successful resident selection as well. Through these efforts, Germane was able to help create 18 residency programs and 11 fellowships (the latter having a combined total of 51 newly created and approved positions) that will begin training on July 1, 2022. Of the 18 new residency programs, Germane was able to take part in establishing 442 approved positions, 144 of which were PGY-1 positions. Most notably, Germane and our clients found great success in the establishment of Internal Medicine Programs for the next academic year, with 219 total approved positions and 73 PGY-1 positions. By guiding clients through intentional resident/fellow recruitment and selection practices, in conjunction with the creation of quality training programs, Germane is fortunate to have played a significant role in the 2022 MATCH.

Below is a list of the PGY-1 positions Germane assisted in creating for the 2022 academic year:



Preparing for 2023's Academic Year and Looking Back
In preparation for 2023's Academic Year—and similarly the MATCH —Germane has already worked to help a number of programs achieve accreditation with a targeted training start date of July 1st, 2023. Of course, Germane's focus will remain on combatting the physician shortage—and therefore, on the expansion of primary care. In line with achieving accreditation, Germane also continues to work with our clients to apply and receive federal and state funding that can be utilized to support GME programs.

Germane congratulates the programs and up-and-coming GME trainees that participated and found success in the 2022 MATCH. We look optimistically towards the changes being implemented to the Internal Medicine and Obstetrics and Gynecology ACGME Program Requirements (and those to come in the future) in the hopes that more hospitals, health centers, and institutions will be able to establish primary care GME programs—and, thus, create and fill more GME positions.