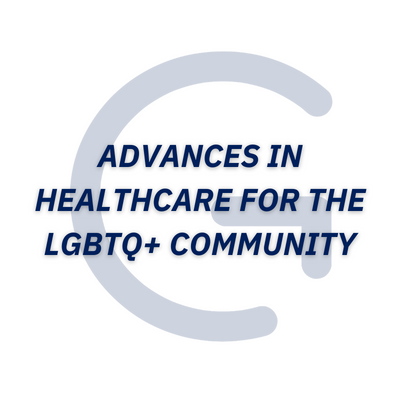 Advances in Healthcare for the LGBTQ+ Community
---

Author: Ella Hearn
---
Fifty-three years ago, the gay community started a riot in response to a routine police raid on the Stonewall Inn, a gay bar in lower Manhattan. The Stonewall Uprising which began on June 28, 1969, marked a pivotal turning point in the gay liberation movement and LGBTQ+ rights within the United States. Soon after the initial riots and protests, activist groups were formed to advocate for the freedom of living openly within one's sexual and gender orientation, and a year later, the first Gay Pride march was held marking the anniversary of the Stonewall Uprising. This Pride month we choose to bring visibility to the unique, intersectional problems LGBTQ persons experience in the medical space.
Disparities in health status between LGBTQ and straight patients have long included higher rates of HIV, STIs, substance abuse, depression, smoking, violence victimization, and weight control/perception [1] . Additionally, LGBTQ patients overwhelmingly have poorer health outcomes and worse healthcare experiences [2] . Although doctors report familiarity with LGBTQ health needs, significant gaps in knowledge exist particularly in transgender health and discussions with patients on sexual orientation and gender identity. [3] More training is needed for doctors to be prepared to care for LGBTQ patients. Clinical competency, however, is only half of the issue. Cultural competency2 (i.e., the ability to provide affirming care to LGBTQ patients) and more accurately, incompetency, have long pushed LGBTQ individuals away from receiving healthcare. With more than four percent of the population identifying as LGBTQ, ensuring equitable care and access to it is absolutely imperative.
Medical teaching curriculum has long been recognized as the solution to both LGBTQ clinical and cultural incompetency. The ACGME Board approved a major revision of its Common Program Requirements in 2018 with new core requirements for increasing diversity and inclusion within GME programs. Under the Diverse Populations Requirement, residents must demonstrate the following competency: respect and responsiveness to diverse populations, including but not limited to diversity in gender, age, culture, race, religion, disabilities, national origins, socioeconomic status, and sexual orientation2. Gender identity was not explicitly mentioned. Although a great stride in equitable care for all, studies have found that many specialties include no LGBTQ-related training and that many program directors will not include such curricula unless mandated by the ACGME.2 Evidenced by residents lacking knowledge and comfortability within LGBTQ care in 27 specialties, despite favorable attitudes and an interest in learning, GME programs must take the responsibility in educating future physicians.
Many recommendations from researchers, national panels, LGBTQ individuals, and doctors themselves exist for LGBTQ GME program requirements to foster better health outcomes and a more diverse, equitable, and inclusive environment. We may be reminded of the importance of this education—both clinically and culturally—by the countless lives lost from HIV/AIDS. The infectious disease subspecialty has no requirements dealing with sexual or gender minorities beyond the Diverse Populations Requirement, which is nonexpansive. Working towards better standards and education for diversity also improves the recruitment and retention rates of diverse faculty and residents. [4] This could be an invaluable consequence given the national physician shortage. Since the night of June 28, 1969, huge strides have been made in securing LGBTQ rights. In the past fifteen years, awareness within the medical industry has widely broadened concerning tailored health care for LGBTQ+ persons, however, the gap has not been closed and progress must continue. LGBTQ rights are human rights.
If you wish to support LGBTQ lives, please consider donating to the Trevor Project , a non-profit organization focusing on suicide prevention among LGBTQ youth.
[1] https://www.lgbtqiahealtheducation.org/wp-content/uploads/LGBTHealthDisparitiesMar2016.pdf
[2] CALL FOR LGBTQ CONTENT IN GME PROGRAM REQUIREMENTS
[3] NATIONAL FINDINGS ON LGBTQ HEALTHCARE
[4] IMPLEMENTING SYSTEMIC CULTURAL CHANGE TO IMPROVE DIVERSITY IN GME