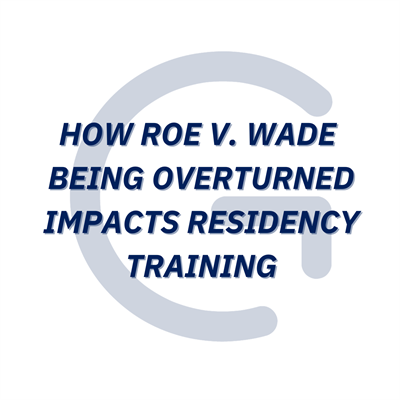 How Roe v. Wade Being Overturned Impacts Residency Training
---

Author: Ella Hearn
---

The Supreme Court has recently decided that the Constitution does not confer any right to abortion in the landmark case Dobbs v. Jackson Women's Health Organization, overruling Roe v. Wade (1973) and Planned Parenthood v. Casey (1992) and setting a new precedent. Thirteen states have triggered laws banning abortions in anticipation of Roe being overturned, which are now or soon to be in effect. Projections put around half of the states placing strict restrictions or total bans on abortion. Clinics in neighboring states that permit abortion have already been preparing for a surge in patients from states set to introduce new restrictions since the Dobbs majority opinion draft leaked in May.
One crucial implication lies in the obstetrics and gynecology (OB-GYN) specialties. About forty-five percent of OB-GYN residents currently training in one of the twenty-six states which are likely to ban or heavily restrict abortion access. However, current ACGME requirements mandate that OB-GYN programs include abortion care in the planned curriculum. Not meeting these requirements would result in program citations, potential withdrawal of accreditation, and a loss of skills across female reproductive health. Residents can individually opt-out of performing procedures on religious or moral bases.
The ACGME requires abortion-related training as it is "directly relevant to preserving the life and health of pregnant patients in some instances and equips residents with the skills and knowledge necessary for providing care in other reproductive healthcare contexts." Residents that receive routine abortion training report significantly higher (self-assessed) competence in providing all aspects of miscarriage care when they receive routine abortion training, according to Sarah Horvath, an OB-GYN at Penn State University who studies abortion care.
The ACGME lists several generally applicable skills in which this training encompasses: preparation in miscarriage management and uterus evacuation procedures; managing pain for obstetrics and gynecology procedures; providing pregnant patients evidence-based, time-sensitive care and education related to preventing severe maternal morbidity and mortality; and care for complications arising from unlicensed procedures involving pregnancies.
Questions concerning the future of residency training and family-planning healthcare in a post-Roe world have been circulating since the draft opinion leak. Preserving both OB-GYN programs and abortion-related curricula is critical to delivering high-quality care, especially given the importance of graduate medical education in remedying the national physician shortage. On June twenty-fourth, the same day as the Dobbs decision release, the ACGME released proposed interim revisions in the OB-GYN
program requirements: Didactic activities and clinical experience in comprehensive family planning, contraceptive methods, and abortion are still core requirements. The ability to opt-out of abortion training remains. However, the program must still provide these residents with didactic activities, simulations, and assessments of both uterine evacuation and communication of pregnancy options. IV.C.7.e) specifies that if a program is in a jurisdiction that legally restricts induced abortions in such a way that the clinical experience requirements may not be met, then the program must provide this experience in a jurisdiction where it is legal. Note that program support must be provided for this experience, including housing if necessary.
This practice is not new; residents in states such as Texas with 6-week abortion bans have already completed rotations out of state. Whether a month-long rotation in California or simply driving across state lines for the day, this method of meeting abortion training requirements has proven successful and will likely be standard practice for many programs.
Clients that offer abortion training in states with abortion bans in their states now must adjust their rotation schedules for the upcoming year. Sending residents to these training sites requires complicated, coordinated logistics: finding a partnering institute with the capacity for additional trainees, scheduling, managing expenses and travel, and meeting all complex licensing and insurance requirements. Clinics and OB-GYN educators in states with broader abortion access are already seeing a massive influx of patients. Additionally, they must teach and manage many more trainees if all programs in non-legal jurisdictions are to meet ACGME requirements. It is reasonable to suggest that not all programs may be able to secure these opportunities.
Looking forward, many aspects of graduate medical education will change. Demonstrably, meeting OB-GYN requirements now will be more difficult for many programs. Still, case learners will also begin to see more severe complications and high-risk pregnancies due to the inability to discontinue them. Although the OB-GYN specialties are the only ones with abortion curriculum requirements, other care providers will also be affected. Family medicine residents often learn the abortion procedure, but it seems likely they will no longer be able to access that training. Emergency medicine residents are projected to see a rise in self-managed, potentially dangerous abortions.
The Supreme Court's ruling leaves many questions to be asked. Even the match may work differently—Should medical students only apply to programs with broader abortion access if they want the training? Should programs that can provide the training locally filter applicants who would opt out of abortion training? Should personal views on
abortion even be shared to secure a good residency match? The only certainty of the future is that the landscape of female reproductive care and OB-GYN residencies post-Roe will soon look very different.
Germane works exclusively in the GME space and is committed to quality residency training. We are working with clients across the country to secure clinical training sites that meet accreditation standards and promote effective female reproductive health care.