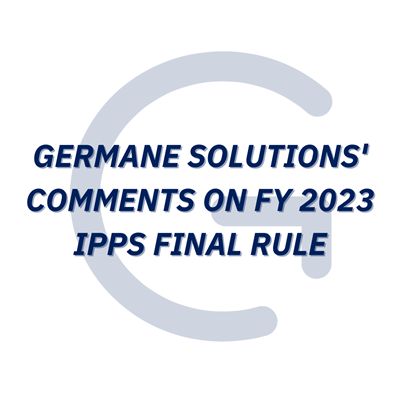 Germane's Comments on FY 2023 IPPS Final Rule
On August 1, 2022, the Centers for Medicare & Medicaid Services (CMS) issued the fiscal year (FY) 2023 Medicare Hospital Inpatient Prospective Payment System (IPPS) and Long-Term Care Hospital Prospective Payment System (LTCH PPS) final rule. The policies in the IPPS and LTCH PPS rule build on key priorities to advance health equity, including by better measuring health care quality disparities and improving the safety and quality of maternity care. The rule impacts some specific Graduate Medical Education (GME)-related topics such as a permanent cap on wage index decreases, indirect medical education (IME) payment adjustment factors, payment for indirect and direct GME costs, reasonable cost payment for nursing and allied health education programs, and allowance of Medicare GME affiliation agreements within certain rural track FTE limitations. Overall, Germane Solutions considers these rules to possess primarily positive implications for those within the GME community who are affected.

CMS proposed to apply a 5-percent cap on any decrease to a hospital's wage index from its wage index in the prior FY, regardless of the circumstances causing the decline (pg. 628). Though this is not specifically related to GME, this provision limits the initial loss of Medicare DRG payments when elected to be designated as a rural provider by a maximum of 5%. Being designated as a rural hospital also provides an immediate 30% increase in IME cap and the ability to build a new IME cap on a program-by-program basis. Following this change, Germane Solutions advises any hospital that is significantly over its IME cap or desires to start new GME programs to reevaluate how rural designation could improve its GME economics.
The other decisions and changes to the IPPS for operating costs, specifically, the Indirect Medical Education (IME) Payment Adjustment Factors (pg. 768) have positive implications. The IME multiplier remained at 1.35, which undoubtedly benefits teaching hospitals. This multiplier represents stability in IME payments the provider could expect to receive.
Additionally, there have been changes regarding DGME payments (pg. 787). Ultimately, the DGME penalty calculation, which was based on a proportional reduction methodology that reduced the weighted FTE count in the same proportion as the unweighted FTE count was in relation to the FTE cap, has in effect been eliminated. This has positive implications for all teaching hospitals that have trained over their DGME caps. However, Germane Solutions recommends that hospitals that have been impacted by the DGME weighting penalty to be mindful of the new calculation when determining their reimbursement payments.

Furthermore, the Nursing and Allied Health Education Programs add-on rates will be proposed and included in the IPPS proposed and final rules. In the past, not having access to the add-on rates made it difficult to determine how much of the NAH payments a provider could expect to receive. Now, additional clarity on this funding source is provided.

Lastly, CMS is beginning to allow Medicare GME affiliation agreements between urban and rural hospitals jointly training residents in a 1-2 separately accredited family medicine program. Germane Solutions considers this rule to entail positive implications. Specifically, existing Rural Training Track (RTT) programs that were started before the Consolidated Appropriations Act (CAA) will be impacted, since it was easier to grow and develop new GME caps. Germane Solutions advises any hospital with a legacy RTT program to examine its rotation schedules and determine if there is a need to transfer more or less cap to their urban or rural partners in order to maximize GME reimbursement for the program.