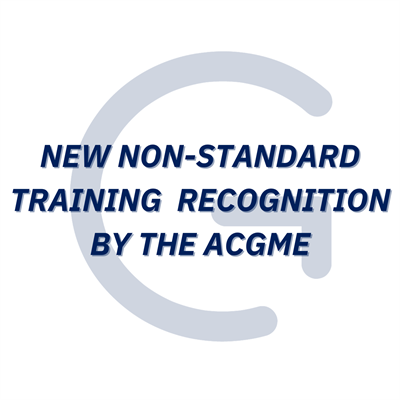 New Non-Standard Training (NST) Recognition by the ACGME: Important for Institutions Sponsoring Exchange Visitors (J-1) Physicians
---
Author: Brooke Moore
---
In April 2021, the Educational Commission for Foreign Medical Graduates (ECFMG®), American Board of Medical Specialties (ABMS®), and Accreditation Council for Graduate Medical Education (ACGME®) announced a change in the process for recognition of non-standard training as it relates to the J-1 visa program administered by ECFMG. Historically, all non-standard disciplines were required to be endorsed by an appropriate ABMS Member Board to be considered for J-1 sponsorship. From now on, ACGME, the primary national accreditor of graduate medical education programs and the institutions that sponsor them, will recognize Sponsoring Institutions offering non-standard training opportunities to J-1 physicians.[1]
Sponsoring Institutions that provide non-standard training for subspecialty disciplines previously endorsed by the ABMS will now need NST Recognition from the ACGME.

Non-Standard Training (NST) Recognition
In February 2022, the ACGME Board of Directors approved the NST Recognition Requirements, which set forth minimum standards for Sponsoring Institutions with NST programs. Recognition of Sponsoring Institutions with NST programs by the ACGME provides a framework for approval and oversight of training opportunities in the United States for physicians whose J-1 visas are sponsored by the ECFMG through the Exchange Visitor Program of the United States Department of State. The ACGME recognizes ACGME-accredited Sponsoring Institutions that offer NST Programs and demonstrate substantial compliance with the following
Recognition Requirements
. The recognized Sponsoring Institution is responsible for each NST program and NST trainee under its auspices for assessing the impact of NST programs on related ACGME-accredited program(s) and for compliance with regulatory requirements for J-1 participants.
The term "non-standard training" (NST) refers to advanced clinical subspecialty disciplines or pathways for which no ACGME accreditation and/or ABMS Member Board certification is available.

Program and Institutional Requirements
Programs seeking to enroll J-1 physicians in non-standard training must ensure the following requirements are met:
The ACGME has granted Non-Standard Training (NST) Recognition for the Sponsoring Institution (replaces the previously required endorsement by an appropriate ABMS Member Board).
Confirmation that the Sponsoring Institution's Graduate Medical Education Committee (GMEC) has approved the non-standard training program and associated program descriptions; GMEC approval is evidenced through the completion and submission of ECFMG's GMEC & Parent Program Verification Form.
Non-standard training must occur within an ACGME-accredited Sponsoring Institution and at a primary activity site for the associated ACGME-accredited "parent" program. Both must apply. To search for a specific ACGME-accredited program and its associated "primary clinical site(s)," refer here.[2]
NST Program Types
The ACGME has provided a
list of non-standard training program types
, including examples of non-standard training programs previously approved for participants in the Exchange Visitor Program with J-1 visas sponsored by the ECFMG®. In this list, each program type has been linked to its most closely related specialty(ies) and/or subspecialty(ies).[3] Below is a snapshot of residency training programs that are affiliated with a high number of NST program types.
Table 1. Most Closely Related ACGME Program with ten (10) or more Identified NST Program Types
| | |
| --- | --- |
| Most Closely Related ACGME Program | Number of NST Program Types (Proposed) |
| Surgery | 38 |
| Neurological Surgery | 37 |
| Neurology | 34 |
| Urology | 31 |
| Ophthalmology | 25 |
| Anesthesiology | 24 |
| Pathology – Anatomic and Clinical | 22 |
| Psychiatry | 20 |
| Otolaryngology | 17 |
| Radiation Oncology | 17 |
| Orthopaedic Surgery | 15 |
| Thoracic Surgery | 15 |
| Dermatology | 12 |
| Emergency Medicine | 10 |
NST Recognition will be conferred upon Sponsoring Institutions only.
It will not be conferred upon individual NST programs.
NST Recognition Application
Institutions seeking this recognition must submit NST recognition applications using the online application process within the Accreditation Data System (ADS). The Institutional Review Committee makes quarterly decisions on NST recognition applications. Sponsoring institutions must maintain
ACGME accreditation
without an adverse accreditation status to be eligible for NST Recognition.[4] The ACGME has slated three (3) application review and decision cycles for the next calendar year.
Table 2. Upcoming Review Committee Meeting Dates for 2023
| | |
| --- | --- |
| Agenda Closing Date | RC Meeting Date |
| February 7, 2023 | May 2-5, 2023 |
| July 18, 2023 | October 10-13, 2023 |
| October 24, 2023 | January 16-29, 2024 |
For Sponsoring Institutions needing assistance with the NST Application, contact Germane Solutions
here
.
References
[1] https://www.ecfmg.org/news/2021/04/19/recognition-of-non-standard-training-for-exchange-visitor-j-1-physicians-to-transition-to-the-acgme/
[2] https://www.ecfmg.org/evsp/nonstandard-training-host-institution-fact-sheet.pdf \
[3] https://www.acgme.org/globalassets/pfassets/programrequirements/examples-of-non-standard-training-program-types.pdf
[4] https://www.acgme.org/what-we-do/recognition/non-standard-training-nst-recognition/