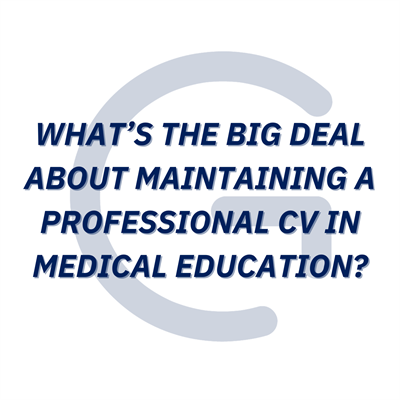 WHAT'S THE BIG DEAL ABOUT MAINTAINING A PROFESSIONAL CV IN MEDICAL EDUCATION?
---
Author: Barb Gohre, Crys Draconi, and Becca Williams
---
What is a Curriculum Vitae (CV)?
A curriculum vitae (CV) is a document used to give a snapshot of someone's professional career. It is similar to a resume but puts an additional focus on professional development experiences, in addition to any work or educational history. Physicians are usually required to keep and maintain a CV throughout their careers.
Why Maintain a Proper CV?
Physicians' CVs are used for many different reasons throughout their careers, as shown in Table 1. Typically, a CV is first developed in the medical student phase. However, many young physicians are not sure how to properly format their CVs for maximum benefit. Once a CV is developed, regardless of formatting, the person will tend to maintain the core structure and add new experiences as needed. Sometimes, credentialing or academic needs may necessitate a CV update or addition.
As a young physician prepares to launch their first autonomous career search, they may wrestle with how much detail to include and how to structure their CV. Anyone, especially those in the medical field, needs to update their CVs as frequently as needed to reflect the continuous development of their career and document progress toward professional milestones. A good practice is as soon as an experience has been confirmed or completed, one should update their CV. Otherwise, backtracking information at the last minute can be challenging and may result in missing information that could be valuable.

What Should be included in a Physician's CV?
A physician's career is not always as simple and linear as most other professions. Many times, physicians carry more than one title or role at a time. Academic physicians especially are often involved in other activities or organizations that could be classified as Scholarly Activity or Professional Development. Often, maintaining a record of these presentations, grants, projects, and abstracts can represent the bulk of the CV. So, it is recommended that when developing this document you put the basic (career track items) at the beginning of the document and all the professional development at the end. This is because as the career advances this section can become exceptionally large and is not needed for every purpose. Some physicians choose to have an "abbreviated" version of the CV or one targeted to certain purposes, such as administrative experience or research. Usually, it is the professional development part of the CV that requires more frequent updates.
Through most of the medical students to fellowship time periods, and even as an attending, CV formatting may not be restricted. However, sometimes when applying for credentialing or medical school appointments, institutions will require you to align information with their standard template. This can be a huge task, but there are opportunities to hire an experienced professional to assist. Those with experience in this area may be able to offer premade templates that can ensure the CV is complete, thorough, and in accordance with industry standards. In Table 2 you will find suggested categories that should appear on a physician's CV.
Table 2: CV Sample Section Headers and Information to Include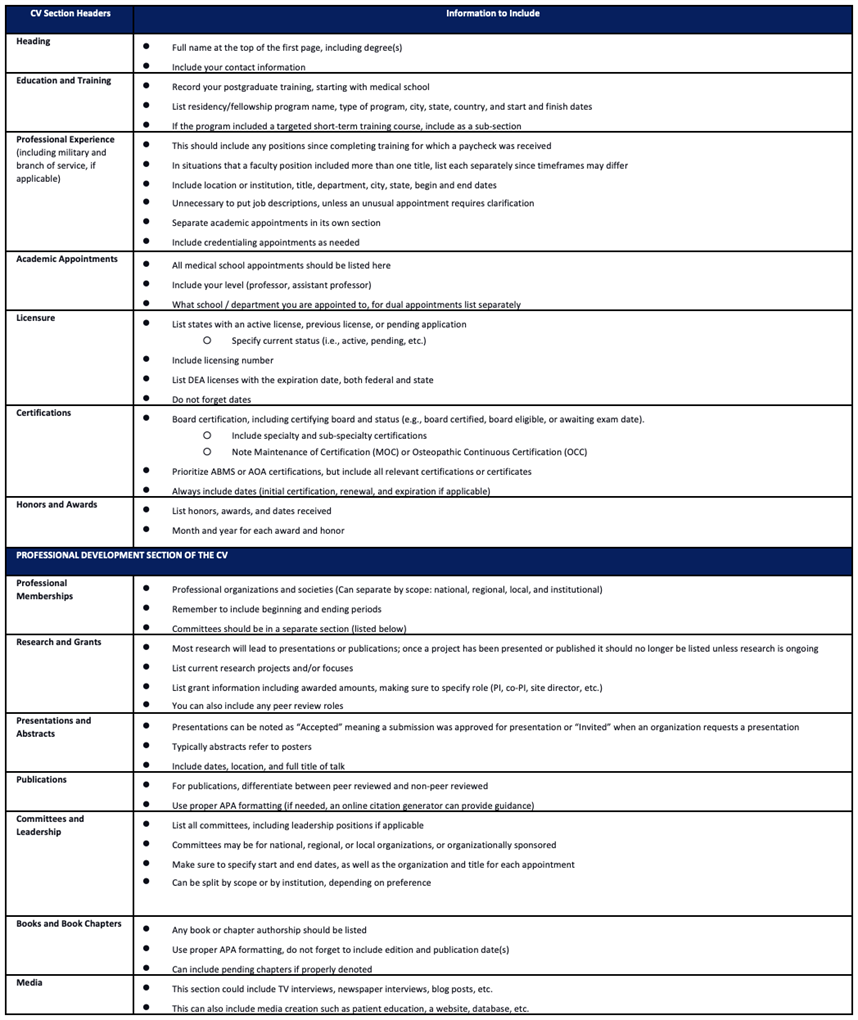 Formatting Tips
Here are a few tips that can help organize and format CVs in a clear, complete, and compliant manner:
Chronological, Organized Dates. Remember to keep in mind that CVs should provide a chronological record of training and experience. This means that every section should be consistent, easy to find, and in date order, with most recent activities at the top. All dates should include month and year in a consistent, professional format, such as "01/2022" or "January 2022". When applicable, include beginning and end dates - especially for employment, committees, and memberships.
Addressing Gaps. Gaps in professional experience are typical, but they do stand out like a sore thumb on a CV. Address them proactively by specifying the nature and purpose of the gap or leave (Childcare, family emergency, moving, etc.). This can prevent a reviewer from dismissing a CV due to an unexplained gap.
Avoid Personal Details. Generally, it is not recommended to include marital status, date of birth, social security number, or any other personal information. Areas of interest, language fluency, or personal accomplishments can be summarized at the bottom of the CV, if desired.
Consistent Formatting. Always keep font type, font sizes, bullets, and other formatting areas consistent throughout the document and align formatting.
Note Collaborators. When listing experiences, remember to include other collaborators, but bold your name so it stands out. Align with formatting standards for the type of citation.
Use APA Formatting. When required, such as publications, remember to format all sections using APA standards, utilizing online generators as appropriate.
Routine Check-In. Updating CV information as new opportunities arise is helpful - the beginning of the academic year is a great time! This process can also provide an opportunity to brainstorm future professional goals. For those involved in academics, the push for annual reports and updates from LCME, ACGME, and the department will happen in August. Collecting this information proactively can win points with program, hospital, and practice administrators!
Final Format. Editing CVs is simplest in Microsoft Word, and there are templates available to make things easier, but documents should be shared via PDF. Don't forget to spell check!
Visually Representing your History
An innovative practice in resume building is using Gantt charts to represent CV items such as appointments and training timelines. This is a fantastic idea for physician CVs. A Gantt chart is typically used in project management to represent several timelines overlapping or occurring simultaneously. This visual tool should supplement, but never replace, your full CV.
Resources:
(2022).
Creating a Standout CV
. American Medical Association.
https://www.ama-assn.org/medical-residents/transition-resident-attending/creating-standout-cv
(2021) Gottlieb M, Promes SB, Coates WC. A guide to creating a high-quality curriculum vitae. AEM Educ Train. 2021 Aug 1;5(4):e10717. doi: 10.1002/aet2.10717. PMID: 34977445; PMCID: PMC8678947.
https://resources.nejmcareercenter.org/article/creating-a-physician-cv-that-shines/
(2018).
Creating a Physician CV That Shines
. The New England Journal of Medicine.
https://resources.nejmcareercenter.org/article/creating-a-physician-cv-that-shines/