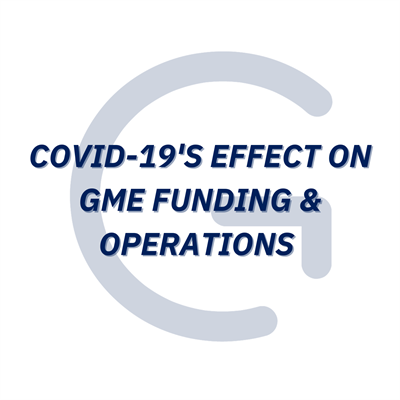 COVID-19's Effect on Graduate Medical Education Funding and Operations


During the ongoing crisis, hospitals and healthcare beneficiaries were provided additional flexibility to receive reimbursement and care. More recently, these health systems have been struggling to make a full recovery due to the increases in healthcare costs and dwindling reimbursement from health insurers. This ongoing burden has further exasperated the physician training programs across the country, which has historically been underfunded at the federal and state levels, leading to the prevention of medical school graduates becoming board-certified physicians.

Historically, the majority of GME funding was provided by the federal government. While this funding is specific to each hospital, there has been little to no relief offered to these programs despite these hospitals' efforts to care for their communities and the populations' needs. Residents and fellows have also had little to no funding directed to the support of their training during the pandemic. Conversely, grant opportunities and recent legislation have made it possible for hospitals to enhance the financial standing of there GME programs. Rural Planning and Development or Teaching Health Center grant opportunities from the Health Resources and Services Administration, have been utilized to fill this funding gap in program development; but without the additional relief and federal reimbursement, sustaining GME growth, or a hospital's current GME footprint, will be challenging. Additionally, a part of the Consolidated Appropriations Act, Section 131 allows hospitals with a minimal cap (below 1.0 FTE) to reset their hospital cap, which is the amount of GME trainee positions a hospital receives Medicare reimbursement from training. Qualifying hospitals under this section have until December 2025 to begin training residents and adjust their cap, which allows hospitals that set a non-optimal cap to readjust and receive significantly more funding. While COVID-19 has dramatically impacted the financial landscape of GME, supplementary resources have been created and utilized to mitigate the pandemic's impact.

Specifically in GME, many changes have been made, but the overall expectation to develop competent, caring physicians has stayed consistent during the pandemic. One such case is ACGME's Sponsoring Institution Emergency Categorization in response to the impact of COVID-19 on GME training: this categorization provides relief to programs that were substantially affected by the pandemic by allowing some leeway with the ACGME Program Requirements; however, core components to a resident's education, such as work hours or supervision policies, must be adhered to even with the categorization. Additional efforts, such as allowing an increased presence of telehealth and/or off-site training with GME training have also increased to traverse the healthcare landscape during COVID as well. In short, while COVID-19 strained the funding and financial viability of GME programs, operational changes were crucial in supporting hospitals and GME programs alike throughout the pandemic—and its likely these support systems will not be going away post-COVID as emergency measures.